Owner of Segway Donates 1,000 Segways for Wounded Warriors Before His Death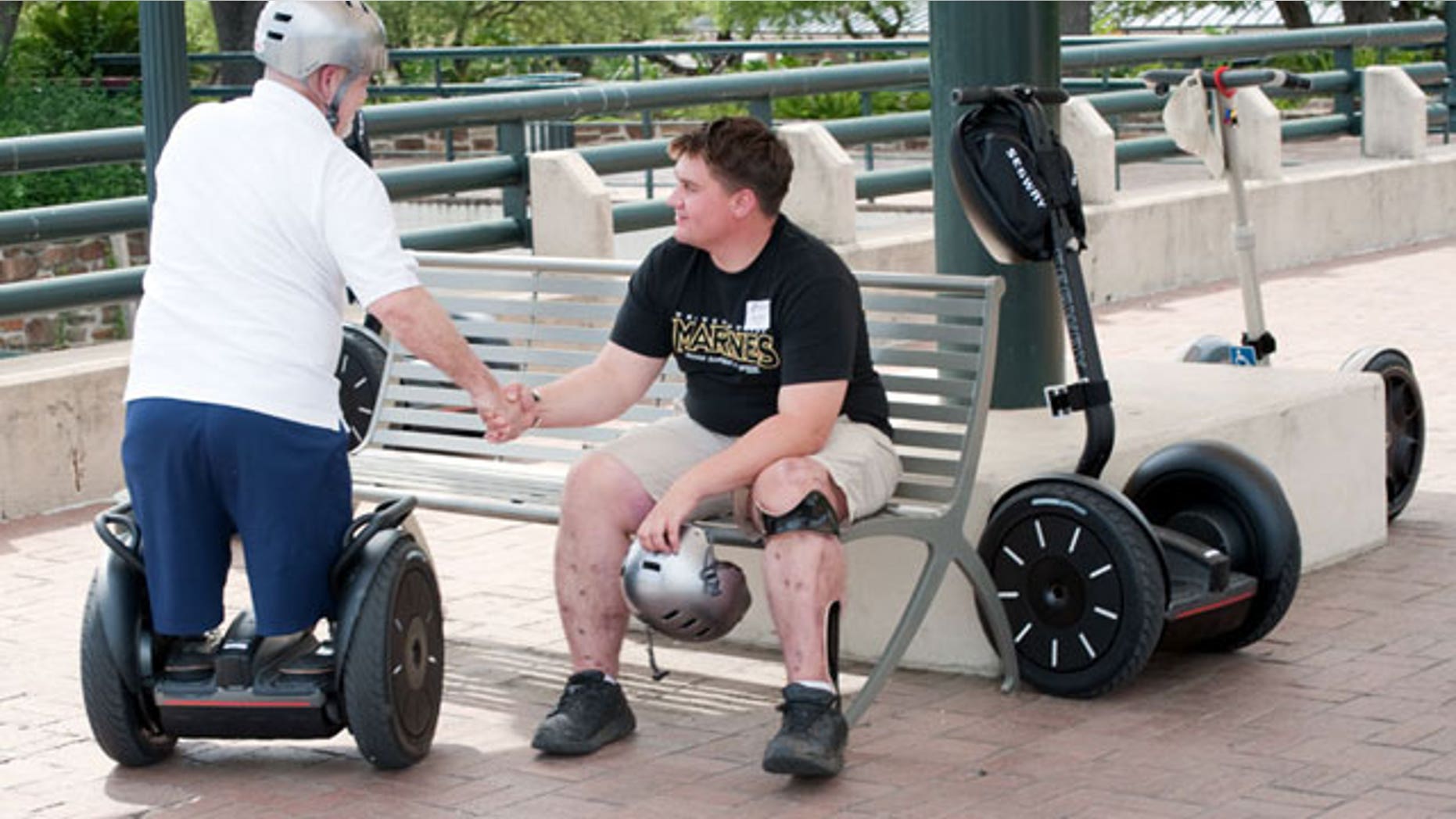 America's wounded warriors lost an advocate last week when the British philanthropist and Segway tycoon Jimi Heselden died in a freak accident while riding one of his vehicles. Before his death, Heselden donated 1,000 Segways, a gift valued at more than $5 million, to the Segs4Vets program that provides the mobility devices to American service members who are disabled by injuries during combat in Iraq and Afghanistan.
The president and founder of Disability Rights Advocates For Technology, Jerry Kerr, released a statement praising Heselden: "Jimi's personal gift means that Disability Rights Advocates for Technology (www.DRAFT.org), the sponsor of the Segs4Vets program, will triple the number of recipients over the next few years and be able to provide a device to every disabled veteran who needs one."
The program has presented more than 500 Segways to wounded warriors since 2005.
The founding members of DRAFT discovered that the Segway, a mobility device for people who have trouble walking, was easier to use and more adaptable to more environments than a wheelchair for some disabled people with limited movement. Kerr experienced this firsthand when he broke his neck 12 years ago.
"I then discovered that everything that I had, all the benefits that allowed me to get around, were the result of the disabled veterans from World War II and Korea and Vietnam," said Kerr.
The device has found a loyal following among the disabled, even though it is not considered a medical device under federal law.
"It allows them to stand tall, look people in the eye and realize their dreams despite their disabilities," Kerr said.
Dave Riley, who was a Coast Guard helicopter rescue swimmer, told MyFoxDC that he is "much happier" since he received his Segway. Riley suffered a bacterial infection that entered his blood stream and caused him to lose his limbs.
Riley described the use of his Segway as "life-changing," giving him more energy. "I would go out to one place and be tired out," Riley told MyFoxDC. "That would be the end of the day for me."
Army Cpl. Jayson Zimmerman hit a bomb on the road while he was a medic in Iraq and Afghanistan. "The first thing I heard over the headset is that another truck had hit an I.E.D. (improvised explosive device), so I went to stand up to help them and I fell over. And that's when I realized that we had been hit because I couldn't walk," Zimmerman said.
Zimmerman is the latest recipient of a Segway from Segs4Vets. "It lets me just start to live again," he said.
"My balance is not very good. I'll walk around inside my apartment or whatever and if I'm not careful I'll just fall right over," Zimmerman said.
A year later, he's had 20 surgeries and may still lose one of his feet because the bones are not healing properly.
Zimmerman received his Purple Heart in a bed at Walter Reed Army Medical Center and learned to walk again there. Now he's learning how to "Segway."
"I still experience a lot of pain, but it's much more tolerable to be doing this than up and down walking," Zimmerman said to MyFoxDC.
Heselden's contribution was scheduled to be announced next week at the Segs4Vets presentation ceremony at the Marine Corps War Memorial in Washington, D.C. "We were looking forward to thanking Jimi in person and are pained that we will not be able to do so," Kerr said.
FoxNews.com's Meghan Baker and MyFoxDC contributed to this report.