Opening arguments set to begin in trial of newlywed accused of pushing husband off cliff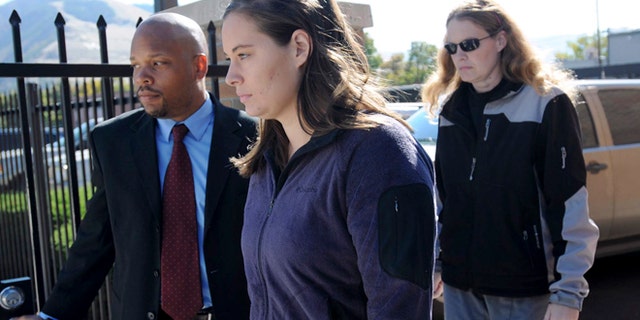 NEWYou can now listen to Fox News articles!
HELENA, Mont. – A jury has been selected and opening arguments are expected in the murder trial of a newlywed bride accused of pushing her husband from a cliff in Glacier National Park just days after their wedding.
Jordan Graham has pleaded not guilty to charges of first-degree murder, second-degree murder and making a false statement to authorities in the death of 25-year-old Cody Johnson.
The jury of eight men, six women and two alternates was seated Monday and opening statements were expected later in the day.
Graham, 22, and Johnson, 25, had been married for eight days when they argued over her doubts about the marriage, prosecutors said. She texted a friend that she planned to confront Johnson about those doubts on the night of July 7.
Dozens of friends, acquaintances and expert witnesses are expected to testify during the trial. None, however, saw the incident.
Federal prosecutors will attempt to convince jurors that Graham deliberately pushed Johnson to his death, then made up a story about how he was last seen driving off with friends.
Graham's federal public defenders will ask jurors to believe that while Graham thought she married too young, she loved Johnson and was only trying to remove his hand from her arm when he fell.
Witnesses will describe Graham as a naive, immature and shy woman who deals better with the children she watched over as a day care worker than with most adults, federal public defender Michael Donahoe wrote in his trial brief.
Johnson liked to race cars, drink beer, play softball and hang out with friends, and he changed for Graham when they began dating, Donahoe wrote. Johnson started going to church and stopped most of his drinking, the lawyer wrote.
Graham may have had misgivings about getting married too young, but that doesn't prove she intended to kill Johnson, Donahoe wrote, noting that federal prosecutors have mostly circumstantial evidence in their push to prove the killing was premeditated.
Assistant U.S. Attorney Zeno Baucus wrote in his own brief that Graham had told Johnson before the wedding that she had a "surprise" planned for him.
After he fell to his death, she didn't call police or seek any assistance, the prosecutor said. Instead, she began sending text messages to friends, planting stories about Johnson's disappearance and talking about her dance moves, Baucus wrote.
Graham initially told investigators that Johnson had driven away with friends the night of July 7. Three days later, she led park rangers to his body, according to prosecutors' court filings.
Her discovery of the body prompted investigators to call Graham back for further questioning by FBI investigator Stacey Smiedala on July 16. Graham agreed to be interviewed without a lawyer present and to take a polygraph test, though one was never administered, according to prosecutors.
Smiedala questioned Graham for about 1 1/2 hours without recording the conversation, then taped two shorter statements by her.
In the recorded portion, Graham said she and Johnson argued about whether they should have waited longer to get married, and they took that argument from their Kalispell home to Glacier National Park, according to a transcript.
Graham said Johnson grabbed her arm at one point. She said she knocked his arm off and pushed him in one motion, causing him to fall from a steep cliff near a trail.
"'I think I didn't realize that one push would mean for sure you were over,"' Graham said, according to the transcript.
U.S. District Judge Donald Molloy said he hoped to get the trial to the jury this week because he has a trial scheduled to start next Monday in Billings.