Ohio Town Debates Taking Down U.S. Flag and Raising a Pole-Dancing Santa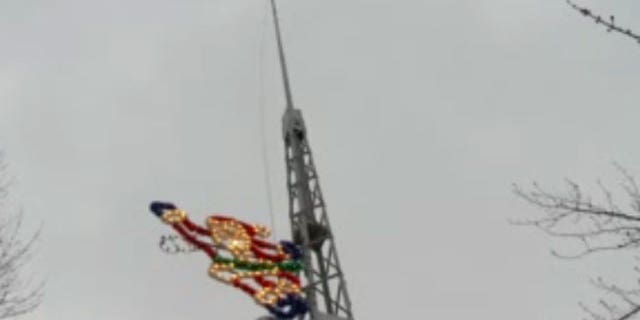 For more than a decade, as Christmas approached and a bone-chilling cold held the Midwest in its grip, officials in Willoughby, Ohio, would take down the most prominent American flag in town and replace it with ... a pole-dancing Santa Claus.
The illuminated Santa is part of an elaborate holiday light display in a downtown park, and leaders in the city located 18 miles northeast of Cleveland say Saint Nick has been swinging on that same 100-foot flagpole for about 12 years.
But this year, for the first time, some residents of the town of 23,000 are saying the tradition is unpatriotic, especially in a time of war.
"A flagpole is not a support for a Santa Claus. It's a flagpole to fly the flag," Linda Wilson told Fox8Cleveland.
Not all of the city's flags have given way to Santa; there are several other flags flying in downtown Willoughby, including one outside of City Hall. But the flagpole in the park is the tallest in the city.
"That one [at City Hall] is very nice, but you don't see it, and this one [in the park] is empty and it's right in front of the Civil War statue and it just should have a flag on it," said Wilson.
City officials say they mean no offense by the long-standing holiday tradition, and they take it down because they won't be able to remove it if it shreds in the wind.
"We have taken that flag down for the past dozen years because it shreds when we leave it up for the winter," Willoughby Mayor David Anderson told Foxnews.com. "We believe and have been told it is disrespectful to fly a shredded flag."
"The ropes freeze, making it nearly impossible to pull down," he said. He added that taking down the flag is the patriot thing to do, and the town will continue to do so every winter.
According to Parks & Recreation Director Brian Katz, this is the first year they have had any complaints.
"We realize there's concern out there now and we never meant to insult anybody, any of the armed forces, they do wonderful things for us, day in and day out," Katz said.
"Many people have also called in support of the townships decision to take the flags down each winter," Anderson said.
Foxnews.com's Meghan Baker contributed to this report.