Ohio teen called 'little czar' in high school drug ring headed to juvenile prison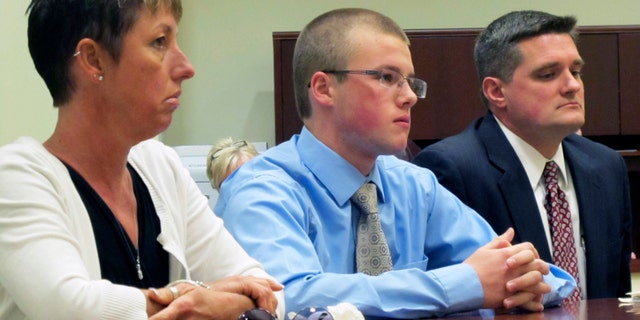 NEWYou can now listen to Fox News articles!
LEBANON, Ohio – A teenager convicted of selling up to $20,000 worth of high-grade marijuana a month to high school students in southwestern Ohio was sentenced Monday to serve six months to three years in a juvenile prison by a judge who called him "a pretty fine young person that went down a bad trail."
Tyler Pagenstecher of Mason was taken into custody immediately after the hearing and will be turned over to Ohio's Department of Youth Services. The agency ultimately will decide how long the 18-year-old Pagenstecher will be in prison, depending on his behavior.
"He's not going home today," Judge Thomas Lipps said, explaining that the charges against Pagenstecher were too serious for him to avoid prison time.
The Associated Press is naming Pagenstecher because of the seriousness of the crimes and because teen's identity quickly became public following the announcement of the charges against him when he was 17.
Authorities say Pagenstecher was one of the most prolific drug dealers in the Cincinnati area, a "little czar" in charge of six teenage lieutenants who helped him sell the marijuana to well-to-do students at two high schools.
Authorities believe Pagenstecher began selling the drugs when he was at least 15 and managed to stay under authorities' radar for a long time by not selling pot at school, but largely out of his home, where he lived with his single mother and older brother.
In court Monday, Pagenstecher stood up and apologized, saying that he didn't realize the severity of his actions.
"I understood that I would get in trouble but not to the level or extent this has become, and I sincerely regret all of this," said the pale, bespectacled, soft-spoken teen. "If I could take it all back, I would."
His mother, Daffney Pagenstecher, also spoke to the judge, saying her son "just thought he was using a recreational drug and selling it to his friends, and that was it."
"He wasn't out to become, you know, a big drug dealer," she said. "He didn't buy a new car. He didn't buy fancy clothes. He wasn't making the money that a drug dealer would make and flaunting it."
The 50-year-old school bus driver said she had no idea what her son had been up to before his arrest.
Lipps expressed incredulity that Tyler Pagenstecher didn't understand the seriousness of what he was doing and said all parents would want to see the person responsible for selling their child drugs to be punished, regardless of age.
He said he did take into consideration the fact that Pagenstecher wasn't violent, didn't have weapons, was a good student, finished a drug-abuse program and got a job at an Italian restaurant.
"You know, I think you're probably a pretty fine young person that went down a bad trail here," Lipps told Pagenstecher. "I do think there's hope for you in the future."
After the sentencing, prosecutor David Fornshell said he hopes the case sends a message to other young adults.
"I think that probably when people originally heard this story they thought this guy was a hero or a rock star," Fornshell said. "I think any juvenile who would come in here today and see somebody go through what this juvenile went through today, and the fact that (if) he doesn't cooperate in the Department of Youth Services, he's going to be in there until his 21st birthday — I hope that sends a strong message."
He said that he expects Pagenstecher to be imprisoned in a juvenile facility that will include drug rehabilitation and education, considering he was just three classes away from graduating from high school.
In addition to Pagenstecher, seven adults ages 20 to 58 were arrested in connection with the drug ring. They were accused of growing the pot under artificial lights in a furniture warehouse and two suburban homes.
Four of the adults have pleaded not guilty to charges of drug trafficking and possession, marijuana cultivation and engaging in corrupt activity. They are are set for trial in November and December.
The other four have pleaded guilty to some of the charges, with most still awaiting sentencing. One of them, 31-year-old Stacy Lampe, has been sentenced to two years in prison.
As part of its investigation of the drug ring, the Warren County Drug Task Force seized more than 600 marijuana plants with an estimated street value of $3 million, or $5,000 a pound. Investigators also found $6,000 in cash in Pagenstecher's bedroom.
Task force Cmdr. John Burke has called Pagenstecher a "little czar" in the drug ring and said most of his customers were students at Mason High and Kings High, two highly ranked public schools about 20 miles outside Cincinnati.