Ohio police officer gives GPS to lost elderly motorist driving to Florida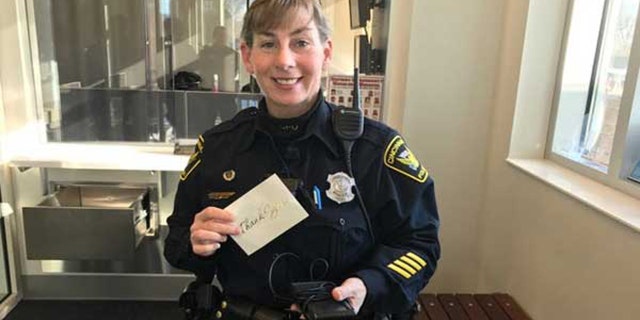 NEWYou can now listen to Fox News articles!
An Ohio police officer is being recognized for her act of kindness during the holiday season when an elderly motorist became lost on the streets of Cincinnati.
Cincinatti Police Officer Virginia Villing gave her own personal GPS navigation system to Shirley McKeown, 71, after she lost her way off U.S. 27 as she was driving alone from Lynn, Ind., more than 1,000 miles to Venus, Fla., FOX 19 reported.
DRIVER TICKETED FOR WARMING CAR IN HIS OWN DRIVEWAY
McKeown spotted Villing conducting a traffic stop and pulled up to ask for help.
"I thought, 'Gosh, if this is my mom, she needs a little bit more than the maps she had highlighted'," Villing said Sunday in an interview with FOX 19.
NJ'S BLUE LINE TRIBUTE TO COPS VIOLATES ROAD SAFETY, OFFICIALS WARN
"So I grabbed my GPS and I said 'Shirley, Christmas is going to come a little early for ya.' I showed her how to use this and I sent her on her way. And then I told my husband that night, 'Gosh, I hope this woman gets to Florida OK.'"
McKeown did arrive in Florida to spend Christmas with her family. Last week, she mailed Villing a handwritten thank you note and returned her $150 GPS, even though the officer insisted that wasn't necessary.
McKeown told FOX 19 she is thankful to the officer for taking extra special care of her by giving her the navigation device.
"I had never used one before. She was just a sweetheart. I talked to a few other officers there, and they were just as nice as she was. You have a great police department down there," McKeown said.
Villing's supervisor, Sgt. Christopher Seta, told FOX 19 she has earned a reputation for always going out of her way to help the public, and her fellow officers during her more than 20 years with the police department.
"I think police officers do things to help people every day. We don't get recognized for it all the time. Once in a while you see something on the news," he said.
Click for more from FOX19.com.