Ohio flooding caused by turtle stuck in drain; cops rescue 'happy' reptile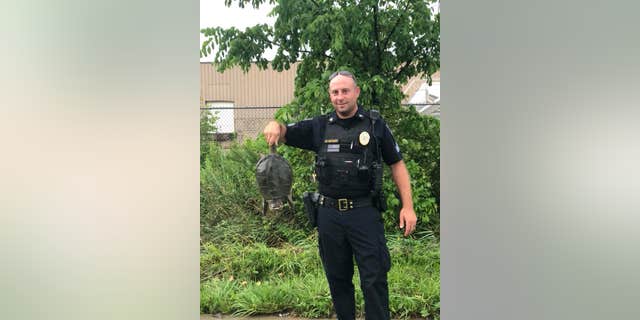 Maybe she was just trying to find Nemo.
Strong thunderstorms hit northeast Ohio Thursday, including the town of Orrville. Damage from the storm caused fallen trees and flooding. But it seems it wasn't just the rain that brought about high waters.
The Orrville Police Department shared a photo of floodwaters along Apple Avenue and warned residents to avoid the area.
A short time later, police revealed the "culprit" to the excessive flooding: a turtle.
"She was stuck in the drain, was safely removed and set free in a nearby creek," the Orrville Police Department said on Facebook Thursday night, sharing a picture of the rescued reptile. "As you can see she was happy to be rescued."
THREE THINGS TO KNOW ABOUT TURTLES
The severe storms caused trees to fall on cars and left about 13,000 people without power in Cuyahoga and Summit counties, WJW-TV reported.
Orrville – home of Smucker's – is located just southwest of Akron.