Obama's expected pick to lead wartime Pentagon earned his defense stripes the quiet way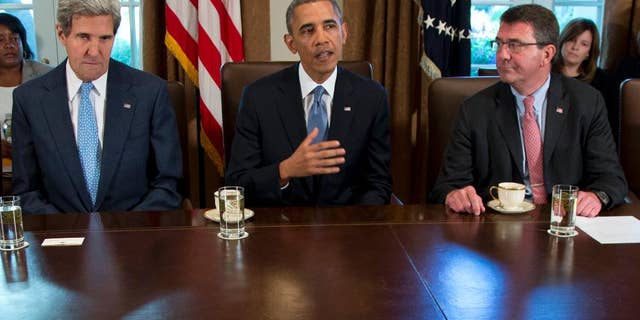 WASHINGTON – No household name, Ashton Carter has earned his stripes in the national security trenches the quiet way. For decades he has toiled as a defense thinker and strategist, nuclear expert, three-time Pentagon executive, budget guru and academician.
He never served in the military or in Congress, unlike many defense secretaries, including the man he would replace if President Barack Obama nominates him as Chuck Hagel's successor. But he spent a lot of time with troops during his 2011-2013 stint as deputy defense secretary and has built relationships with an entire generation of military leaders during his years in the Pentagon.
Administration officials said Tuesday that Carter, 60, is expected to be Obama's nominee, putting him in line to take over a far-flung, hard-to-manage department that has had an uneasy relationship with the White House.
Obama spokesman Josh Earnest stopped short of confirming that the president had made a decision, yet praised Carter effusively for serving "very, very ably" at the Pentagon previously and noted he had been easily confirmed by the Senate before.
"This is an indication that he fulfills some of the criteria that we've discussed in the past," Earnest said. "He is somebody who definitely deserves and has demonstrated strong bipartisan support for his previous service in government."
Administration officials said Obama could announce his nominee as early as this week. The officials insisted on anonymity because they were not authorized to discuss the president's decision-making process publicly.
Carter would likely face a welcoming Senate confirmation hearing, unlike Hagel. As the nominee in February 2013 Hagel was hammered with sometimes sharp questioning that seemed to throw him off balance and raise doubts about his competence. Carter, however, would be tackling a pile of security problems at least as high as those Hagel took on, beginning with the further development of a strategy to degrade and eventually defeat the Islamic State militants in Syria and Iraq.
Sen. James Inhofe of Oklahoma, a senior Republican on the Armed Services Committee, said he would support Carter's nomination. Sen. Ted Cruz of Texas, another Armed Services Committee member, used a speech before Concerned Veterans of America to criticize the Obama administration in general for seeking a fourth defense secretary in six years.
Among other tough issues he would face immediately: Russia's continued provocations in Ukraine, tensions between the White House and Defense Department over closing the Guantanamo Bay, Cuba, detention center, and concerns at the Pentagon over the impact of deep spending cuts.
Defense analyst Anthony Cordesman said that as Obama approaches the end of his presidency, the Pentagon post is "not particularly desirable" for anyone with broader political ambitions.
"It's very unlikely you will get political visibility or credit for being the secretary," said Cordesman, a longtime defense watcher at the Center for Strategic and International Studies. "There are just too many problems and uncertainties."
A physicist by training, Carter moved to the top of the White House's short list after several leading contenders withdrew from consideration for what is typically a much-desired Cabinet spot. If Obama moves forward with Carter's nomination and he is approved by the Senate, he would replace Hagel, who resigned last week under pressure from Obama.
"He's a technocrat and a good manager," said Jane Harman, a former California congresswoman and now president of the Wilson Center. "He knows the acquisitions side of the building and has impressed the military with his commitment to the troops."
Hagel's resignation highlighted ongoing tensions between the White House and the Pentagon, where top officials have complained about West Wing micromanagement and a lack of clarity in Obama's policy-making. Perhaps as a result of those concerns, Obama found himself with a far shorter list of possible replacements for Hagel that the White House may have expected.
Homeland Security Secretary Jeh Johnson, formerly the Pentagon's top lawyer, was among those considered for the Pentagon post, but told the White House he'd rather stay put, according to people familiar with the process. Michele Flournoy, one of Obama's top choices, quickly took her name out of contention. And Sen. Jack Reed, a Rhode Island Democrat and West Point graduate, also made clear within hours of Hagel's resignation that he wasn't interested.
Carter has extensive experience in the national security arena. Before he served as deputy defense secretary from October 2011 to December 2013 he was the Pentagon's technology and weapons-buying chief for more than two years.
He and former Defense Secretary William Perry for years have championed a concept they call "preventive defense," using defense diplomacy to build security partnerships around the world as a means of forestalling major security threats to the U.S.
Carter has bachelor's degrees in physics and medieval history from Yale University and received his doctorate in theoretical physics from Oxford University, where he was a Rhodes Scholar. He has served on the advisory boards of MIT's Lincoln Laboratories and the Draper Laboratory. He has extensive knowledge of the inner workings of the U.S. nuclear arsenal.
___
AP White House Correspondent Julie Pace and Associated Press writer Bradley Klapper contributed to this report.