NYPD commissioner to skip Puerto Rican Day parade over Oscar Lopez Rivera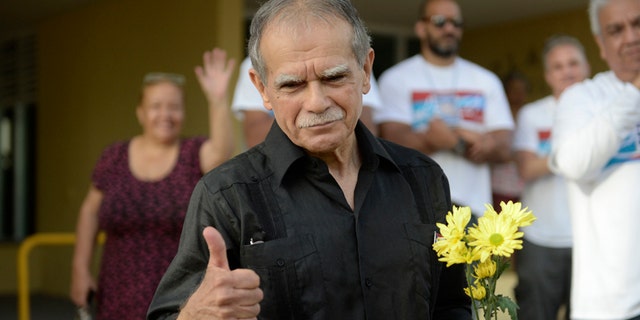 New York City Police Commissioner James O'Neill said Monday that he will not be participating in the city's annual Puerto Rican Day parade after organizers announced they will be honoring nationalist Oscar Lopez Rivera, who was released from prison last week.
"I usually do march in most of the parades with the fraternal organizations, but I'm not going to be marching this year," O'Neill said to the reporters, according to the New York Daily News.
"I cannot support a man who is a co-founder of an organization that engaged in over 120 bombings," O'Neill said, referring to Lopez Rivera as a "terrorist."
O'Neill announced his decision just as law enforcement groups, including the NYPD's Hispanic Society and the Sergeants Benevolent Association, said they too will be skipping out on the festivities.
OSCAR LOPEZ RIVERA: CELEBRATIONS FOR FREED PUERTO RICAN NATIONALIST STIR CONTROVERSY
Lopez Rivera, who emerged from house arrest last Wednesday after his 55-year sentence was commuted by former President Barack Obama, was named Procer de la Libertad -- National Freedom Hero -- for this year's parade.
Organizers defended their decision to honor Lopez Rivera on Monday, assuring their decision wasn't made in haste.
"It will create awareness on issues, even if controversial, that affect us as a Puerto Rican community," organizers said in a statement. "We will continue to represent all voices, with an aim to spark dialogue and find common ground, so that we can help advance our community and build cultural legacy."
The parade down New York's Fifth Avenue will take place on June 11.
Lopez Rivera, now 74, was sentenced in 1981 after he was found guilty of seditious conspiracy, armed robbery, a weapons violation and four counts of interstate transportation of stolen vehicles. He belonged to the Armed Forces of National Liberation, or FALN, an ultranationalist Puerto Rican group that claimed responsibility for more than 100 bombings in New York, Chicago, Washington and Puerto Rico during the 1970s and early 1980s.
Many NYPD officers were injured during those bombings.
Though Lopez Rivera was a member of the FALN, thousands of supporters have come to his defense nationwide. Many people see him as a freedom fighter who was imprisoned for seeking independence for Puerto Rico.
SLAIN MEXICAN JOURNALIST HAD GONE INTO HIDING RECENTLY, CONSIDERED LEAVING MEXICO
More than 30 New York City council members also signed a letter commending the parade board for honoring Lopez Rivera.
"We commend you for recognizing that Oscar López Rivera represents the voice, tenacity and resolve of Puerto Rico and its people," the letter read.
"As countless families continue to struggle in Puerto Rico's current fiscal crisis, Oscar is a reminder of the hope that has always anchored the Island — and that's why we fully stand behind your efforts to honor him during this year's 60th National Puerto Rican Day parade.
"Oscar's presence will lift people's spirits and bring attention to the challenges that must be immediately addressed on the Island," according to the letter.
New York has the largest Puerto Rican community off the island.
The Associated Press contributed to this report.