North Carolina missing girl's father questions ex-wife's abduction statement
The father of a missing North Carolina toddler has questioned his ex-wife's statement alleging the 3-year-old girl vanished from her home late Sunday.
Alex Woods, the father of Mariah Woods, told WCTI-TV Tuesday the explanation by his ex-wife, Kristy Woods, of how the child vanished from her home Sunday night near Jacksonville, N.C., was unbelievable.
"Someone just walked right up in there, grabbed the 3-year-old out of the bed and she didn't cry, she didn't scream?" Woods told WCTI-TV. "Nobody heard anything? Four people in the house, two adults and two kids. Someone just comes up and snatches the baby and walks out?"
SURVEILLANCE PHOTOS NOT OF MISSING NORTH CAROLINA GIRL, FBI SAYS
Woods called his daughter's disappearance a "nightmare" and said he does not believe the toddler was kidnapped. He said he believed Kristy Woods and her boyfriend "have something to do with it."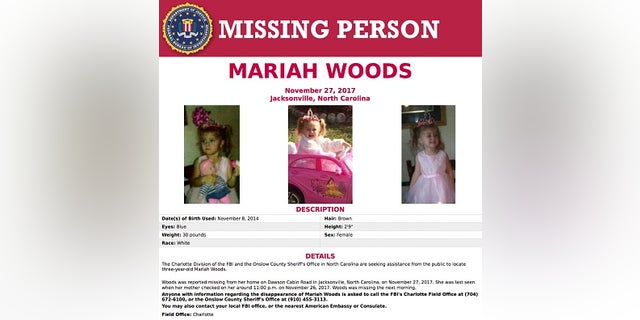 The father said he has been involved in custody issues with his ex-wife and said he has not seen Mariah in about a year, although he was granted custody to see her on the weekends.
Kristy Woods told police she last saw her daughter at 11 p.m. Sunday when she checked on her. She said her boyfriend, who lives in the house with her, also checked on the toddler around midnight. Woods said she realized her daughter was missing around 6 a.m. the following day. Woods' two other children, both boys aged 10 and 5, were also inside the home at the time of Mariah's disappearance. Alex Woods is also the biological father of the two boys.
SEARCH UNDER WAY FOR MISSING NORTH CAROLINA GIRL
A statewide Amber Alert has been issued for Mariah. The FBI joined the search Tuesday along with crime scene investigators, deputies, firefighters and military police. The search for the missing toddler entered its fourth day Thursday.
The FBI and local law enforcement officials have asked for the public's help and urged anyone to come forward with any information on Mariah, who is about 2-feet-9-inches tall and weighs 30 pounds.
The Associated Press contributed to this report.