New York Times employees stage walkout over copy desk cuts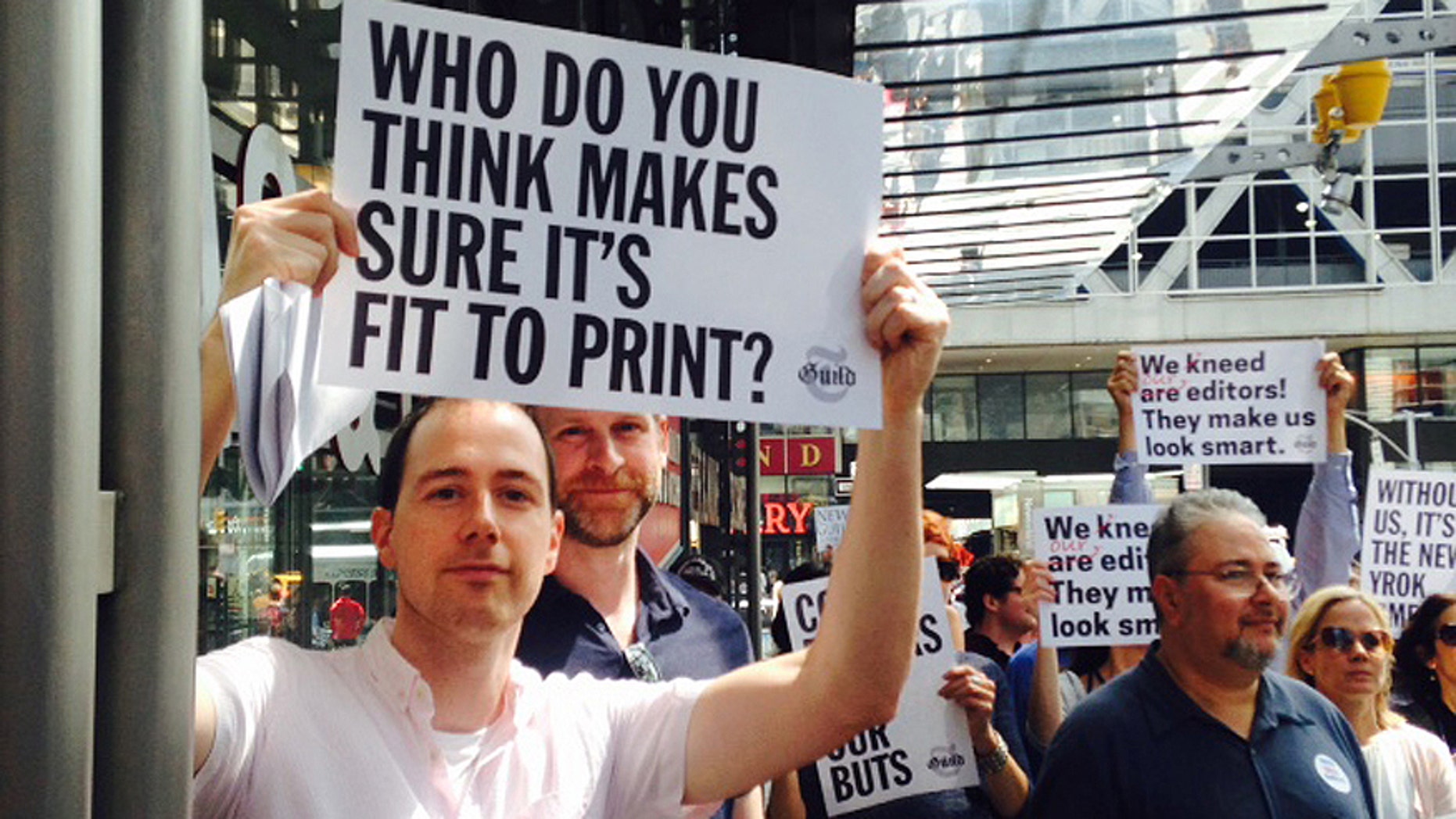 Journalists at the New York Times staged a brief demonstration outside their office Thursday to protest planned cuts to the newspaper's copy editing staff.
At 3 p.m. ET, dozens of reporters and editors gathered outside holding placards that read: "We kneed are editors! They make us look smart!" and "Copy editors save our butts," and "This sign wsa not edited."
Times employees said that the decision to cut the copy desk -- which many described as an important line of defense against grammatical mistakes, factual errors and oversights that could compromise fairness and balance -- was done with little to no input from the staff.
"There's a right way to do this and a wrong way," said Christoph Fuhrmans, a senior staff editor in the sports department. "It was done very quickly. This was done in a vacuum."
Many of the newspaper's staffers say that at a time when journalists have been put on the defensive, and President Trump has taken aim at many news organizations, particularly the New York Times, it has seldom been more crucial to have a deep system of checks and balances.
"The Times goes through such a thorough check of facts and editing that is done to each story," said Grant Glickson, president of the New York Newspaper Guild. "Copy editors have ensured that would happen for more than 100 years."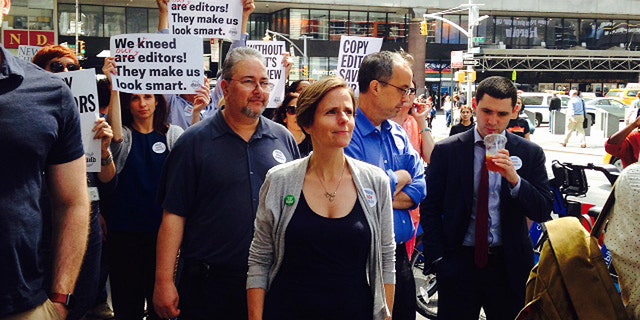 The walkout came on the same day that the newspaper's reporters sent a letter to Executive Editor Dean Baquet and Managing Editor Joe Kahn expressing their dismay over the pending layoffs.
"Dear Dean and Joe," the letter reads, according to Poynter.org. "We write to you as the saved — those whose copy, facts and sometimes the intelligibility of a sentence or two have been hammered into shape by our friends and colleagues on the editing desks."
"Our editors ask smart questions, engage passionately with our copy, and serve as our safety nets. Editors — and yes, that especially means copy editors — save reporters and The Times every day from countless errors, large and small."
The letter was followed up by the "collective coffee break" at 3 p.m., which was organized by editorial staffers in a show of solidarity to the copy editors.
"As we did in 2012 during contract talks, we will get up from our desks, walk down to the ground floor, walk around the building carrying signs and then walk back in," reads a letter that was sent to staffers from organizers of the walkout. "Our coffee break together should only take about 15 minutes."
"When we did this five years ago, the utter silence of a suddenly cleared-out newsroom, and the news coverage of the event, sent a powerful message of discontent."
The protest comes after the copy editing staff sent a letter of their own to Baquet and Khan on Wednesday afternoon defending themselves.
"We have begun the humiliating process of justifying our continued presence at The New York Times," reads the letter.
"We take some solace in the fact that we have been assured repeatedly that copy editors are highly respected here. If that is true, we have a simple request. Cutting us down to 50 to 55 editors from more than 100, and expecting the same level of quality in the report, is dumbfoundingly unrealistic. Work with us on a new number."
They even brought up disparaging comments made in the past about their department within the newsroom.
"But after living more than a year and a half under a cloud of uncertainty about our jobs, a cruelly drawn-out period in which we suspended major financial arrangements and life decisions, and carried an ever-growing kernel of fear... After we were compared to dogs urinating on fire hydrants when we edited stories, in an internal report that called for the elimination of 'low-value editing.'"
Those at the protest said they recognize that new trends in the news business require changes, but that newsrooms can adapt without being thoughtless and hurting quality.
"We have to make sure the brand is kept at a high level," Glickson said. "Copy editors are what has kept this place together. Editors are being asked to do more than they ever did, and it only makes sense that there will be more mistakes," making copy editors all the more vital.