Nearly 200 caravan migrants to seek asylum, in direct challenge to Trump administration
Almost 200 migrants parked at the nation's busiest border crossing are planning to seek asylum in the U.S. following their dramatic journey in a caravan through Mexico, setting up a showdown with the Trump administration over immigration and asylum policy.
Eight women and children entered a border facility on Monday to formally file asylum papers, with the rest to follow soon, organizers said. Immigration officials confirmed the facility had begun "processing undocumented arrivals again."
The caravan, which reached the border with San Diego after an approximately 2,000-mile trip, once included more than a thousand people. It is now down to a few hundred.
The migrants' decision to seek asylum comes just one day after U.S. officials closed the border facility there because it was at capacity.
White House officials have long said many claims for asylum are fraudulent, and that illegal immigrants can take advantage of the sometimes years-long asylum process by living in the U.S. while their claims are adjudicated.
Most asylum claims by Central Americans are unsuccessful, Reuters reported, with the majority resulting in immediate detention and eventual denial and deportation.
Asylum claims require a well-founded showing by the applicant of a risk of persecution -- such as physical harm, economic retaliation, or imprisonment by the government -- if an applicant is returned to his home country.
Clearing that high legal bar is challenging, especially because courts generally only consider persecution based on certain characteristics, such as religion, political opinion, national origin, or race. Immigration judges therefore generally do not consider the risk of persecution by most non-state actors, such as criminal groups -- which are a predominant threat in Central America.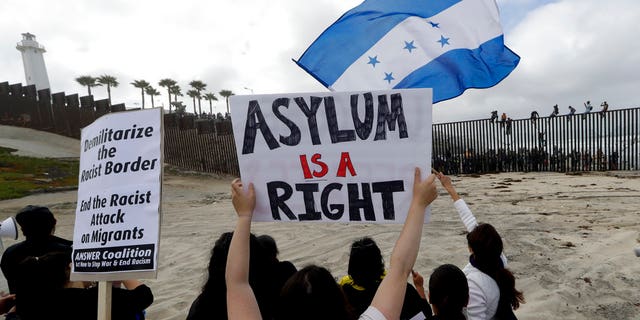 "We can close loopholes and clarify our asylum laws to ensure that they help those they were intended to help," Attorney General Jeff Sessions said in October. "As this system becomes overloaded with fake claims, it cannot deal effectively with just claims."
Sessions has since called the caravan "a deliberate attempt to undermine our laws and overwhelm our system."
He has vowed to send more immigration judges to the border to resolve cases if needed.
Meanwhile, the Department of Justice on Monday filed complaints against 11 people thought to be members of the caravan of migrants, relating to their alleged illegal arrival in the U.S.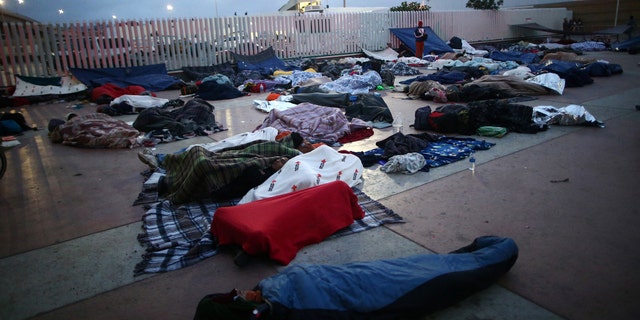 And some members of the caravan reportedly tried to slip through U.S. border fencing, immigration authorities said.
President Trump and members of his Cabinet have been tracking the caravan closely, calling it a threat to the U.S. since it started March 25 in the Mexican city of Tapachula, near the Guatemala border.
"The migrant 'caravan' that is openly defying our border shows how weak & ineffective U.S. immigration laws are," Trump tweeted Monday night.
NEARLY A DOZEN SUSPECTED CARAVAN MEMBERS FACE DOJ COMPLAINTS
"Yet Democrats like Jon Tester continue to support the open borders agenda – Tester even voted to protect Sanctuary Cities," he added, taking a shot at the West Virginia senator who released a report detailing allegations against ex-Veterans Affairs nominee Adm. Ronny Jackson. "We need lawmakers who will put America First."
But caravan organizers disputed the White House's characterizations, saying the nearly 200 migrants, many traveling with children, decided to apply for protection at the nation's busiest border crossing after many fled violence in their home countries.
Wendi Yaneri Garcia told The Associated Press she's confident she will be released while her asylum case winds its way through the courts because she's traveling alone with her 2-year-old son, who has been sick.
"All I want is a place where I can work and raise my son," the 36-year-old said.
She said police in her hometown of Atlantida, Honduras, jailed her for protesting construction of a hydroelectric plant and that she received death threats after being released.
The caravan's arrival at San Diego's San Ysidro border crossing marked the end of a monthlong journey by foot, freight train and bus for the migrants.
Nefi Hernandez, 24, told the AP a gang in his hometown of San Pedro Sula, Honduras, threatened to kill him and his family if he did not sell drugs. He intended to seek asylum with his wife and baby daughter, who was born on the journey through Mexico.
And Jose Cazares, 31, said he faced death threats in the Honduran city of Yoro because a gang member suspected of killing the mother of his children learned one of his sons reported the crime to police.
But the travelers faced an uncertain future as they asked for asylum. U.S. immigration lawyers warned them that they face possible separation from their children and detention for many months.
CARAVAN PARKS AT BORDER FACILITY AFTER US OFFICIALS REFUSE ENTRY
Homeland Security Secretary Kirstjen Nielsen said asylum claims will be resolved "efficiently and expeditiously." But she warned that any asylum seekers making false claims could be prosecuted, as could anyone who assists the migrants in doing so.
The San Ysidro crossing can hold about 300 people temporarily, Pete Flores, U.S. Customs and Border Protection's San Diego field office director, said earlier this month.
Asylum seekers are typically held for up to three days at the border and then turned over to U.S. Immigration and Customs Enforcement. If they pass an asylum officer's initial screening, they may be detained or released into the U.S. with ankle monitors.
The Associated Press contributed to this report.