Mystery surrounds stabbing death of young attorney inside Washington hotel
Authorities are poring over "every online communication" belonging to a 30-year-old attorney in their hunt for the person who stabbed him to death last week inside an upscale Washington, D.C., hotel.
David Messerschmitt, an associate with the international law firm DLA Piper, checked into the Donovan Hotel in downtown Washington sometime after 5 p.m. on Monday, Feb. 9, according to Paris White, a homicide detective with the Metropolitan Police Department.
White, who is working the case, told FoxNews.com that Messerschmitt text messaged his wife, Kim Vuong, at 7:34 p.m. that evening, saying he would be back at their Capitol Hill apartment in about an hour. He never made it.
Vuong reported her husband missing at 1:50 a.m. Tuesday and Messerschmitt's body was found later Tuesday morning inside a fourth-story hotel room at the Donovan -- partially clothed and stabbed multiple times, law enforcement sources said.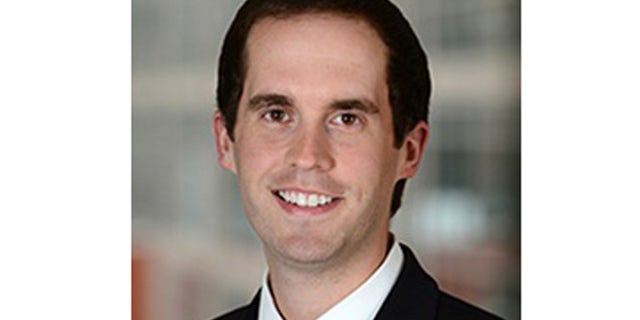 Personal items, including Messerschmitt's wallet, were not taken from the room, according to White.
Authorities are focusing their hunt on a suspicious individual seen on surveillance video walking up the Donovan's stairwell shortly after Messerschmitt contacted his wife. It's not clear to police whether the person wearing a hooded winter coat is a man or woman, police said.
White said detectives have seized Messerschmitt's laptop and are examining "all sources of communication including social media."
White confirmed that Messerschmitt paid for a room at the hotel, though he noted the victim's wife said "everything appeared normal" with the couple.
Messerschmitt, an intellectual property lawyer, attended Boston University School of Law and Ohio State University, where he and Vuong met. The two married in July 2012 in Messerschmitt's native Cincinnati.
Messerschmitt worked for a law firm in Chicago before moving to the nation's capital. He began working for DLA Piper last year.
White said the hotel's elevators were not working properly that day due to "maintenance issues." The unknown person of interest is captured on camera pressing the elevator button twice before entering the stairwell. The individual is seen partially covering his or her face with what appears to be a black scarf at one point on the tape.
"We need the public's help with identifying this person," White said.
James Trainum, a former Washington homicide detective, said it's important investigators do not fall victim to tunnel vision while hunting for the killer or killers.
"Yes that person looks suspicious and should be considered a person of interest but we should look at all possibilities," Trainum told FoxNews.com.
"There has to be some kind of an electronic trail. It's just a matter of finding that trail," he said.
Messerschmitt's friends, meanwhile, expressed shock at the murder of a promising young lawyer described as "exceptional."
"He was just a quiet, gentle soul," said James Nuber, who was Messerschmitt's rowing coach while at Ohio State.
"He was really smart -- a brilliant guy," Nuber told FoxNews.com. "He was always smiling and always happy."
"This is utterly baffling," he said.
Police are offering a $25,000 reward for information leading to an arrest. Anyone with information on the person seen in the surveillance video or on the crime should contact authorities immediately at 202-727-9099.