Morning brief: US denounces Venezuela elections
US DENOUNCES VENEZUELA ELECTIONS
The U.S. slammed the elections in Venezuela on whether to grant the country's ruling party unlimited power Sunday, vowing "strong and swift actions against the architects of authoritarianism." "The United States stands by the people of Venezuela, and their constitutional representatives, in their quest to restore their country to a full and prosperous democracy," the State Department said in a statement.
VENEZUELA OFFICIALS CLAIM MORE THAN 8 MILLION VOTE TO GRANT GOVERNMENT MORE POWER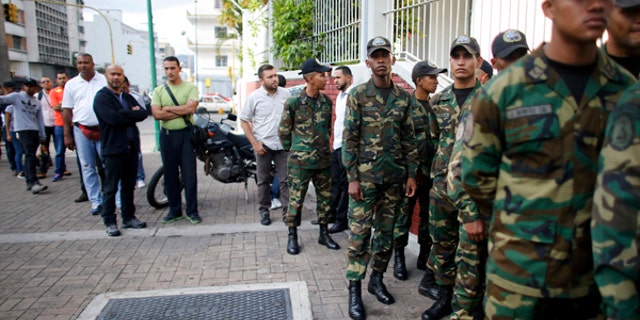 LOOK: VENEZUELA VOTES ON CONSTITUENT ASSEMBLY
US, JAPAN AGREE TO TAKE FURTHER ACTION ON NORTH KOREA
Japan's Prime Minister Shinzo Abe said Monday he and President Donald Trump agreed to take further action against North Korea following its latest missile launch. Abe told reporters after the call that Trump pledged to "take all necessary measures to protect" Japan and that Abe praised his commitment to do so. He also called on China and Russia to do more to stop Pyongyang. Abe said Japan would pursue concrete steps to bolster defense system and capabilities under the firm solidarity with the U.S. and do utmost to protect the safety of the Japanese people.
US, ALLIES PREPARED TO USE 'OVERWHELMING FORCE' IN NORTH KOREA, GENERAL SAYS
US CONDUCTS 'SUCCESSFUL' THAAD MISSILE TEST AFTER LATEST NORTH KOREA MISSILE LAUNCH
DOZEN INMATES ESCAPE ALABAMA JAIL
Twelve inmates made a brazen escape from the Walker County Jail in Alabama on Sunday and authorities were still searching for the escapees into early Monday. It is unclear how the prisoners were able to escape. Walker County Chief Deputy Dayron Bridges said that an investigation was ongoing. The age range of the escaped inmates was between 18 and 30 years old.
TRUMP STRONG ARMS OBAMACARE BACK TO THE TABLE
Senate Republicans ended July in humiliating and seemingly final defeat over repealing and replacing ObamaCare, but relentless pressure this weekend from President Trump and reports of yet another potentially winning bill has sparked renewed hope of success within the party. Sen. Lindsey Graham, R-S.C., reportedly has a new overhaul plan for the Senate, where senators will returned Monday because Majority Leader Mitch McConnell has revoked the first two weeks of their traditional August recess.
PELOSI SAYS FUTURE OF HER LEADERSHIP ROLE 'UNIMPORTANT'
CONWAY STILL MUM ON WHO REPORTS DIRECTLY TO TRUMP AFTER KELLY'S ARRIVAL
#NO CONFEDERATE CAMPAIGN AGAINST HBO SLAVE DRAMA GOES VIRAL
A social media campaign to derail HBO's planned modern-day Southern slavery drama quickly caught fire, rapidly shooting to the top ranks of Twitter both nationally and internationally. Amplifying earlier criticism of the project, the campaign, with "OscarsSoWhite" activist April Reign among its organizers, asked people to tweet to HBO with the hashtag "NoConfederate" during Sunday's broadcast of the channel's top hit "Game of Thrones."
CHRIS CHRISTIE CONFRONTS FAN AT MILWAUKEE BREWERS GAME
COMING UP ON FNC
2:45 AM ET: Vice President Pence meets with Baltic leaders.
3:00 PM ET: President Trump wards the Medal of Honor to Army Specialist Five James McCloughan for conspicuous gallantry during the Vietnam War. Watch live on Fox News.
FOX BUSINESS COVERAGE
Week ahead-Chip stocks show signs of slowing with more earnings on tap (Click here for more)
How tax reform affects the overall economy (Click here for more)
COMING UP ON FBN
10:00 AM ET: Jon Steinberg- Cheddar CEO will appear on Varney & Company
11:00 AM ET - Rep. Marsha Blackburn, R-Tenn., will be on Varney & Company