Morning brief: North Korea claims successful ICBM launch
NORTH KOREA CLAIMS TO HAVE LAUNCHED ICBM
North Korea claimed to have successfully tested its first intercontinental ballistic missile in a launch Tuesday, though U.S. and South Korean officials earlier said it had an intermediate range. A test-launch of an intercontinental ballistic missile, if confirmed, would be a game-changing development in the North's push to militarily challenge Washington and a step forward in developing a nuclear-tipped missile that can reach anywhere in the U.S.
TRUMP: PATIENCE WITH NORTH KOREA IS OVER
TRUMP RESPONDS TO NORTH KOREA LAUNCH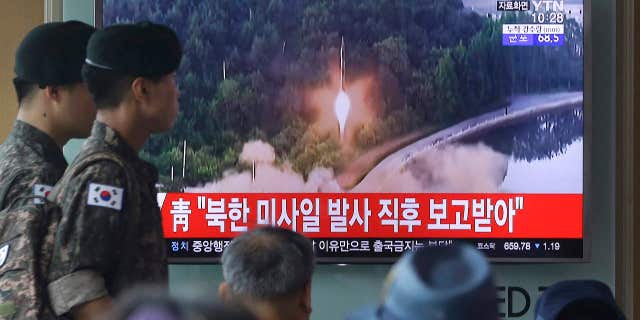 President Trump responded to North Korea's latest missile launch late Monday with a two-part Twitter post asking in part, "Does [North Korean dictator Kim Jong Un] have anything better to do with his life?" Trump, who returned to Washington late Monday after spending the weekend at his golf course in New Jersey, also referenced China, speculating that Beijing would "put a heavy move on North Korea and end this nonsense once and for all!" South Korean and Japanese officials say North Korea launched a ballistic missile Tuesday morning Korea time that is believed to have landed in the Sea of Japan. The launch is the first since Trump met with his South Korean counterpart, Moon Jae-in, in Washington last week.
OPINION: NORTH KOREA IS A THREAT TO THE US AND SO IS CHINA
NEW JERSEY'S GOVERNMENT SHUTDOWN ENDS
Gov. Chris Christie signed a budget deal Tuesday effectively ending New Jersey's government shut down. The Republican governor ordered all closed state parks to reopen for the Fourth of July. State parks and beaches had been closed to the public, though Christie spent Sunday on a beach with his family. Christie said the state government will open on July 5, after the holiday and that state workers will get paid a holiday at his request. New Jersey Democratic Senate President Steve Sweeney and Assembly Speaker Vincent Prieto announced the deal earlier Monday.
STATES ENTER SUMMER OF BUDGET PLAN
VITTERT CHALLENGES CHRISTIE SPOX ON GOV'S BEACH TRIP
KRAUTHAMMER: AMERICAN KIDS TAUGHT 'ABNORMAL, ANTI-AMERICAN' LESSONS
Syndicated columnist Charles Krauthammer told Fox News Monday night that American students are being taught "about all of the pathologies of the United States and very little of the glories." Krauthammer was reacting to a Fox News Poll released last week, in which 45 percent of voters said they were not proud of the United States. When the voters were broken down by party, just 39 percent of Democrats said they were proud of the United States. Krauthammer explained on "Tucker Carlson Tonight" that lack of American pride represented in the poll originated with the counter-cultural left in the 1960s.
JOEY CHESTNUT FAVORED TO DEFEND NATHAN'S HOT DOG EATING CONTEST TITLE
Legendary competitive eater Joey "Jaws" Chestnut is once again the odds-on favorite to take home the men's championship belt at the Nathan's Hot Dog Eating Contest on Tuesday. Chestnut, 33, is a -400 favorite to defeat top rival Matt "Megatoda" Stonie at the 101st annual event in the Brooklyn, New York neighborhood of Coney Island, according to the latest odds from Bovada.LV, an online sportsbook. Stonie, who is the only other competitive eater to win the men's championship in the hot dog contest since 2007, is a +250 underdog.