MORNING BRIEF: China pledges neutrality unless US strikes North Korea first
China's government drew a line in the sand Friday, saying it would remain neutral if North Korea attacks the U.S. but would defend its Asian neighbor if the U.S. strikes first, Chinese state media reported.
The Chinese response follows a week filled with a number of hot-headed proclamations between North Korea and the U.S.
On Wednesday, North Korea released a statement saying it would follow through with a plan to launch four missiles toward the U.S. territory of Guam by mid-August
Meanwhile, other Asia-Pacific countries have come out in support of the United States. Japan's defense minister, Itsunori Onodera, said this week that his nation's military was ready to shoot down North Korean missiles if necessary.
MATTIS: WAR WITH NORTH KOREA WOULD BE 'CATASTROPHIC'
Defense Secretary Jim Mattis said Thursday that a war with North Korea would be "catastrophic," following President Trump's string of warnings to the rogue nation.
"The tragedy of war is well-enough known it doesn't need another characterization beyond the fact that it would be catastrophic," Mattis said.
Speaking to reporters, Mattis emphasized that the U.S.' main effort is "diplomatically led" and that he hopes to continue down that path.
TRUMP FIRES NEW SHOT AT McCONNELL, LEAVES DOOR OPEN ON WHETHER HE SHOULD STEP DOWN
President Trump continued to criticize Sen. Mitch McConnell, R-Ky., Thursday, raising the possibility that the majority leader could resign if the Senate fails to advance Trump's legislative agenda.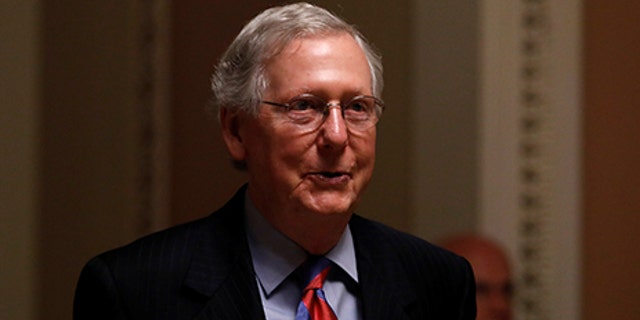 "If he doesn't get repeal and replace [of ObamaCare] done, and if he doesn't get taxes done, meaning cuts and reform, and if he doesn't get a very easy one to get done, infrastructure, if he doesn't get them done, then you can ask me that question," Trump told reporters outside his golf resort in Bedminster, N.J.
Trump took to Twitter earlier to urge McConnell to "get back to work."
GOOGLE MISTREATS CONSERVATIVE EMPLOYEES, GOP CONGRESSMAN SAYS
U.S. Rep. Dana Rohrabacher, R-Calif., took to Twitter on Thursday to slam Google for its recent firing of an employee who criticized what he saw as the tech giant's left-leaning corporate culture.
"The mistreatment of conservatives and libertarians by tech monopolies is a civil rights issue," Rohrabacher tweeted.
James Damore, an engineer at Google, was recently fired for sending out a memo criticizing the tech giant for pushing mentoring and diversity programs and "alienating conservatives."
Damore also took heat for saying that women were underrepresented at tech companies because they "prefer jobs in social and artistic areas," have a "lower stress tolerance," and a "harder time" leading, while more men "may like coding because it requires systemizing."
ISIS USED EBAY TO FUNNEL TERROR CASH TO US, FEDS SAY
U.S. investigators uncovered a global financial network run by a senior Islamic State official that funneled money to an alleged ISIS operative in the U.S. through fake eBay transactions, a recently unsealed FBI affidavit said.
The alleged recipient was a U.S. citizen in his early 30s who had been arrested more than a year ago in Maryland after a lengthy FBI surveillance operation that uncovered the first clues to the suspected network.
The incident highlights how the Islamic State is becoming more capable of circumventing Western security measures.
FOX BUSINESS COVERAGE
GENERAL ELECTRIC'S NEW CEO PLACES $2.7 MILLION BET ON COMPANY'S FUTURE
ATLANTA POLICE OFFICER CHALLENGES OWNER OF 'NO COPS' GYM TO A BOXING MATCH
J.C. PENNEY: INVESTORS HOPE FOR THE BEST
COMING UP ON FBN
6:00 a.m. ET – Ray Tenorio, Lt. Gov. of Guam, will be on "Mornings with Maria."
11:45 a.m. ET – Ed Rensi, former McDonald's CEO, will be on "Varney & Company"