More than 200 firefighters respond to multi-car blaze inside New York City mall parking garage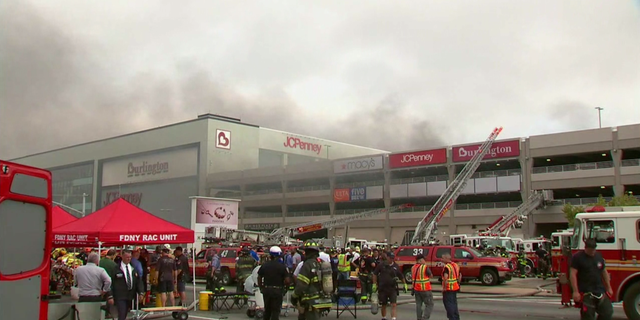 At least 21 people, mostly firefighters, were injured Monday after multiple vehicles caught fire inside a mall parking garage in New York City, sending plumes of black smoke into the air.
The 18 firefighters and three other people suffered injuries that were not life threatening, officials said. Several vehicles burst into flames at Kings Plaza Mall in Brooklyn just before 9 a.m., FDNY Commissioner Daniel Nigro said in a news conference.
"None of these 21 injuries is life threatening or critical, everyone is stable," Nigro said. "Our members have various levels of smoke inhalation, heat exhaustion, working under those conditions. Smoke and heat, wearing what they wear, one can only imagine what they are going through."
The blaze on the second floor of the parking garage quickly escalated, with between 250 and 300 firefighters responding to the scene within an hour.
Photos and videos from people nearby showed thick black smoke overwhelming the area. The explosion-like noises were caused by tires bursting, Nigro said.
The fire commissioner said officials were at the scene checking for damage to the structure.
The multi-floor parking garage stores about 120 vehicles for a nearby car dealership, according to Nigro. Although many of the vehicles were on fire when firefighters arrived, the blaze was contained to the second floor.
Kings Plaza mall tweeted earlier the shopping center was closed due to the fire.
"Kings Plaza currently closed. Multiple cars on fire in garage and smoke conditions. FDNY on scene. Avoid area," a spokesperson for the mall tweeted.
The cause of the fire is under investigation.