Mom left baby in hot car while paying fine at Florida courthouse, cops say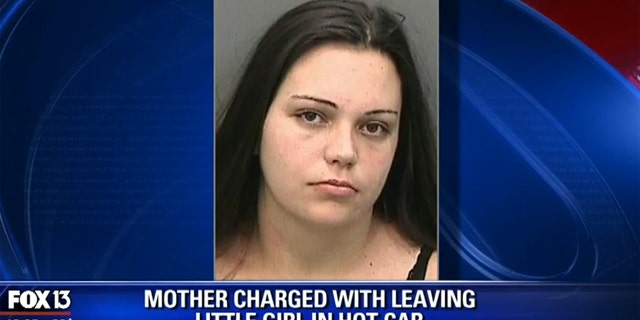 NEWYou can now listen to Fox News articles!
TAMPA – Police arrested a Tampa mother who allegedly left a baby in a hot car while she went into the courthouse to pay a fine.
Just after noon Friday, an off-duty Plant City officer was flagged down by passers-by who were concerned about a baby left alone in a car on Twiggs Street. According to a police report, the sweating infant was showing signs of distress and her face was red.
"It was a warm day the windows were cracked but the temperate in the vehicle got up to 123 degrees with the child sitting in the sun," said TPD spokesperson Eddy Durkin.
The report says the officer "gained access" to the black Kia and put the baby girl in his air-conditioned vehicle, where she continued sweating for several minutes before cooling down.
When paramedics arrived, they took her to the hospital to be checked out.
The report noted that it was 93 degrees that afternoon. Tampa Fire Rescue measured the interior temperature of the car at 123 degrees after they arrived.
Meanwhile, the baby's mother came out of the courthouse and explained that she'd opted to leave the sleeping baby inside while she paid a fine inside because she didn't expect it to take as long as it did.
Brandi Leigh Guggino, 23, was arrested on a charge of child abuse and neglect. She was released from jail on $2,000 bond.