Missouri school bus crash: At least 14 students, driver hurt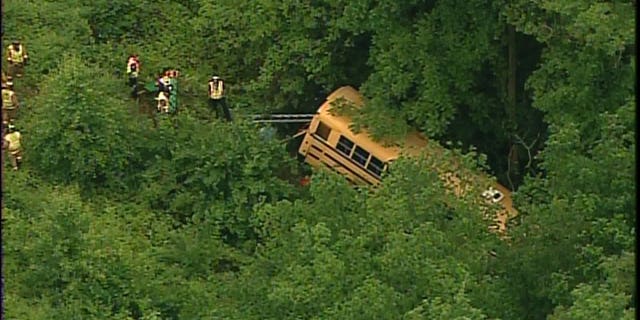 At least 14 students and the driver were hurt after a school bus slammed through an interstate highway guardrail and ran into a ravine in the St. Louis area on Thursday.
The students were headed from St. Louis to a suburban grade school as part of a voluntary desegregation program.
The crash unfolded on I-44 in St. Louis County, briefly trapping the driver. Paramedics raced to get everyone on the bus to the hospital.
"Everybody is going to be okay," Highway Patrol Sgt. Al Nothum told Fox 2.
I-85 COLLAPSE: BRIDGE TO OPEN NEXT WEEK, GEORGIA GOVERNOR SAYS
One child ejected through the bus' emergency door during the crash had moderate injuries and others suffered bumps and scrapes, Nothum said.
A car and truck crashed ahead of the bus, highway patrol officers said, adding that the bus hit one of the vehicles before running off the interstate. It finally came to a stop about 15 feet down the embankment, investigators said.
WILDFIRE NEAR FLORIDA-GEORGIA LINE
The children, who ranged from kindergartners to 5th graders, were heading from St. Louis to Hanna Woods Elementary School in Manchester.
At least six ambulances rushed to the scene. The drivers of the white truck and red car involved in the initial crash weren't hurt, Fox 2 reported.
First responders initially estimated 12 children were on the bus.
The Associated Press contributed to this report.