Miss Connecticut wins Miss USA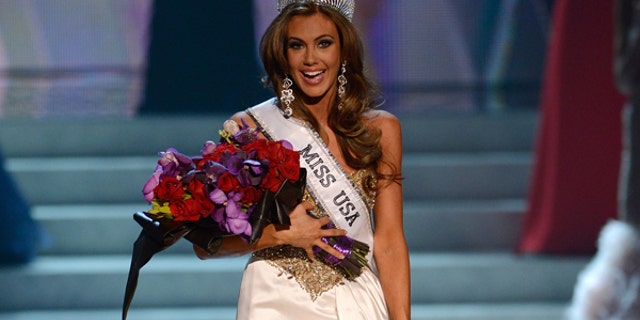 NEWYou can now listen to Fox News articles!
LAS VEGAS – A 25-year-old contestant from Connecticut won the title of Miss USA in Las Vegas on Sunday night.
Erin Brady of South Glastonbury, Conn., won the beauty pageant at the Planet Hollywood hotel-casino after strutting in a white sparkly gown and answering a question about the U.S. Supreme Court's decision upholding widespread DNA tests. Asked if she agreed with the decision, Brady said she did.
Brady gets the crown and a New York apartment for one year. She is expected to spend her title reign on a nationwide speaking tour and raising breast and ovarian cancer awareness, the organization's official cause.
During the swimsuit competition, the ladies threw off sheer wraps to reveal skimpy blue, gold and orange bikinis. They strutted in stilettos to the Jonas Brothers' live performance of "Pom Poms."
The women also strutted to Calvin Harris' electronica-infused "Sweet Nothing" in an array of spangled, flowing evening gowns. Trains, gauze and long wavy hair were the preferred looks.
Unlike the rival Miss America pageant, Miss USA doesn't ask its queens to perform a talent or choose a charity mission.
The judge's panel included over-the-top fashion designer Betsey Johnson, "Biggest Loser" star Bob Harper and "Wait Wait ... Don't Tell Me" personality Mo Rocca.
Rocca praised the pageant as a prime example of Americana backstage. He said he was looking to appoint a new Miss USA who reminded him of Abraham Lincoln "without the beard."
The pageant aired live on NBC, hosted by Nick Jonas of the Jonas Brothers pop act and Giuliana Rancic, co-anchor of "E! News." The Jonas Brothers and DJ Pauly D were expected to perform.
The winner will represent the United States at the Miss Universe pageant in the winter.
Last year's Miss USA, Olivia Culpo, won that international crown, becoming the first Miss USA to ascend to Miss Universe in 16 years. Meriwether, who had been first runner-up, took over for her for the remainder of the year.
The Miss USA hopefuls stayed at the Planet Hollywood casino for the past week, but the flashing slot machines and ubiquitous oversized novelty drinks have been little more than a background to a stuffed schedule of product tie-in media events, including hairdo contests and paddleboat competitions.
The animal rights organization People For The Ethical Treatment Of Animals is using the pageant to stage a protest of fur and the tradition of awarding furs to winners of some state pageants.
PETA has made a provocative ad featuring four nude former Miss USA winners. The tagline is: "Feel Beautiful in Your Own Skin, and Let Animals Keep Theirs."