Midwest braces for tropical storm remnants; Texas spared brunt of system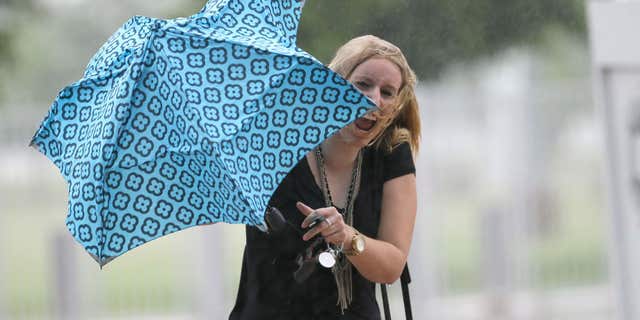 NEWYou can now listen to Fox News articles!
The Midwest braced for more rain and possible flooding from the remnants of Tropical Storm Bill Thursday while Texas residents recovered from weather that wasn't as bad as it was expected to be.
Forecasters predict that 3 to 8 inches of rain could fall from Oklahoma to Illinois by the end of the week as the low-pressure system that once was Bill heads for the northeast.
Bill hit Texas after record rainfall plagued the Lone Star State during late May, swelling rivers and threatening dams from border to border. While the storm dropped enough water to shutter airports and flood roads, its impact was much less severe than some thought it would be.
"Even though the state is facing challenges, it looks like we have been able to avoid the worst," Texas Gov. Greg Abbott said.
The threat late Wednesday shifted to Arkansas and Oklahoma, where Bill's feeder bands were expected to track over northeastern Texas and southeastern Oklahoma.
"The band is only about 75 miles wide, but that's where the concern for flooding and road closures exists," said John Hart, a meteorologist at the Storm Prediction Center in Norman, Oklahoma. "That narrow corridor is going to be a pretty big deal."
Volunteers in Oklahoma's Okmulgee County filled thousands of sandbags Wednesday to prepare for the storm – the region's second major rainmaker in three weeks.
"We've never had to deal with back-to-back massive flooding situations," Okmulgee County emergency management director Tim Craighton said.
May was Oklahoma's second wettest month in history. Five people died in floods and another person was killed in a tornado last month, and already on Wednesday officials had to close roads because of high water.
On the east side of the storm — typically a tropical system's strongest side in the northern hemisphere — severe thunderstorm warnings were already up in Arkansas, with the threat of small tornadoes and damaging winds.
Once the storm passes into Missouri and Illinois, the runoff would fill the Arkansas and Red rivers, which crested well above flood stages earlier this month. Arkansas transportation officials had to close major routes and farmers headed back to the fields to replant fields after floodwaters rousted seedlings from the ground.
"It's really hard. You can't get a plan together," said Robert Stobaugh, a farmer who owns about 6,000 acres near the Arkansas River west of Little Rock. "This second flood ... it adds to the cost, aggravation and worry."
High water was already causing problems in Missouri, even ahead of Bill's arrival. A motorist died when high water swept his car from an eastern Missouri road and the U.S. Army Corps of Engineers declared an emergency in its Kansas City District while delivering 43,000 sandbags for use in the Blue River basin.
Meteorologists warned residents of Missouri and Illinois to watch for high water into the weekend.
The Associated Press contributed to this report.