Midterm elections put law enforcement agencies on alert for possible violence
The "ongoing threat of violence" has law enforcement officials on high alert Tuesday, with federal and local officials keeping a close eye on the millions of Americans going to the polls.
The FBI and Homeland Security issued a bulletin Thursday to law enforcement agencies, preaching vigilance in the wake of a flurry of mail bombs -- none of which exploded -- sent to prominent Democratic political figures, ABC News reported.
Neither agency cited any specific threats.
AMERICA'S ELECTION HQ MIDTERMS 2018
"Both domestic extremists and [Islamic militants] have previously targeted public events and government officials, and we remain concerned by the ongoing threat of lone offender violence," the bulletin read, according to ABC News.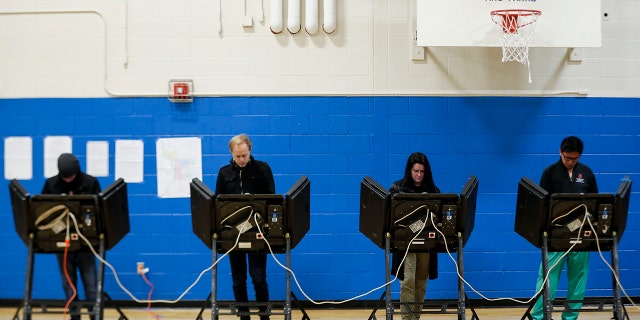 The alert added: "We are concerned some domestic extremists and [Islamic militants] may perceive the election or transition period (which in most cases will extend through January 2019) as an opportunity to engage in violence, including assaults against political or prominent public figures and low-level acts of violence against governmental and nongovernmental institutions associated with political figures or the democratic process."
MICHIGAN JOURNALIST CAUGHT SAYING REPUBLICAN JOHN JAMES' VICTORY WOULD 'SUCK'
The Justice Department also said it was monitoring the web for cyber attacks and other online threats. DHS officials said Tuesday morning they had not yet seen any coordinated attacks on the scale of 2016's meddling.
Foreign hackers have reportedly intensified their efforts to target America's election infrastructure ahead of Tuesday's midterms. Citing election threat reports from the Department of Homeland Security, the Boston Globe reported hackers had already targeted voter registration databases, election officials and networks across the U.S.
Fox News' Catherine Herridge contributed to this report.