Mexican man deported 4 times sentenced for illegally entering US again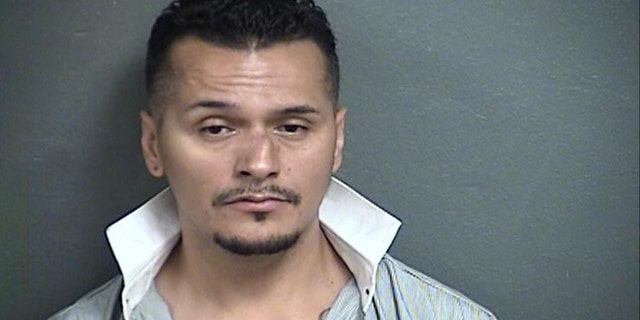 A 36-year-old Mexican citizen was sentenced to more than six years behind bars for illegally returning to the U.S. after previously being deported four separate times, officials announced Monday.
Jorge Carrillo-Hernandez was sentenced to four years and nine months in federal prison for his crime, in addition to another 2 years because he went back to the U.S. while he remained on probation from a separate case, U.S. Attorney Stephen McAllister, for the District of Kansas, announced in a news release.
ICE RAID AT TEXAS COMPANY NETS MORE THAN 100 ILLEGAL IMMIGRANT ARRESTS, OFFICIALS SAY
Between 2003 and 2013, Carrillo-Hernandez was convicted of aggravated assault, aggravated battery, domestic battery, three DUI's and two instances where he illegally returned to the U.S. following deportation following convictions for aggravated felonies, the news release said.
Prior to his sentencing, Immigration and Customs Enforcement (ICE) caught wind of him after he was arrested in April 2017 for a fourth DUI, McAllister said.
ILLEGAL IMMIGRANT WHO COMMITTED MULTIPLE RAPES AFTER 2012 ICE DETAINER NOT ENFORCED GETS 80 YEARS IN PRISON
Carrillo-Hernandez was less than a year old when he came to the U.S. with relatives, according to The Kansas City Star, citing court records. He reportedly began residing in the Kansas City area when he was a teen.
Public defender Laquisha Ross said Carrillo-Hernandez "repeatedly" re-entered the U.S. because "he has lived in this country for as long as he could remember, and his family lives here," according to the outlet.
The Associated Press contributed to this report.