Massachusetts State Police arrest passenger with 'vampire straw' at Boston airport
TSA says man arrested on state-level charge
Massachusetts State Police troopers confiscated a "vampire straw" from a passenger at Boston Logan International Airport.
Troopers confiscated the straw from a passenger at the airport on Sunday, according to Transportation Security Administration New England spokesperson Dan Velez.
According to Velez, the passenger was arrested on a state-level charge.
"This is a Vampire straw. These items are not allowed in passenger carry-on bags. A passenger found that out yesterday @BostonLogan when @MassStatePolice confiscated the item and eventually arrested the 26-year-old man on a state charge," Velez said in a tweet.
AUSTRALIAN BORDER POLICE ARREST AMERICAN WOMAN WITH 24-CARAT GOLD-PLATED HANDGUN
One website that sells vampire straws describes it as both a self-defense tool and a normal straw that can be used for drinking.
CLICK HERE TO GET THE FOX NEWS APP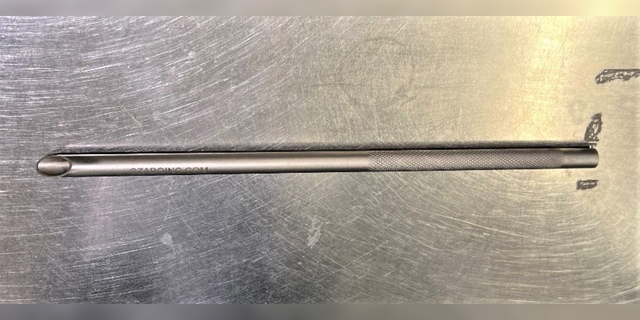 "Designed for self defense, the Vampire straw is super tough and long enough to be used like a dagger; it's chiseled tip is sharp enough to puncture most synthetic materials. The Vampire straw is also a very effective tire deflator, and can be carried in a cup, in public without attracting attention. From a cup, the Vampire straw is very easy to deploy in reverse grip, and put into action almost instantly," the website states.