Massachusetts car crash leaves 4 teenagers dead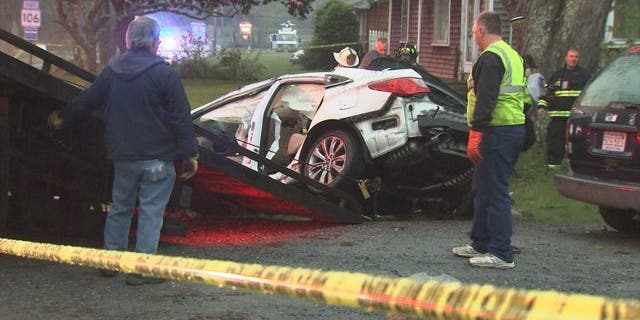 NEWYou can now listen to Fox News articles!
Four teenage passengers were killed in a violent car crash on Saturday that left a vehicle torn to pieces after flipping over and striking a tree south of Boston, officials said.
The crash happened just after 4 p.m. in East Bridgewater, located 30 miles south of Boston, when the white sedan flipped over and crashed into a tree in the front yard of a home.
"Three people had been pronounced dead at the scene, one person was taken to the Brockton hospital and was pronounced dead there," Plymouth County District Attorney Timothy Cruz told Boston 25 News.
Cruz identified the victims on Sunday as classmates Christopher Desir, Eric Sarblah and David Bell, all 17 years old, and 16-year-old Nick Joyce.
The driver of the vehicle, who is also 17, is still being treated for his injuries at Boston Medical Center. His name has not yet been released by authorities.
Stoughton Public Schools said in a letter posted to Twitter that all five teenagers in the car went to Stoughton High School.
"We extend our deepest sympathies to the families of these students," principal Juliette Miller wrote.
All of the teenagers in the vehicle were on the track team, according to Stoughton Public Schools Superintendent Marguerite Rizzi, who called the crash the "worst nightmare of any school administrator."
"This is a devastating occasion for any community, any school," she said.
The school plans to open on Sunday at noon for any students, faculty, and staff to come together to "grieve and lean on one another," in addition to having counselors available.
Authorities had to use multiple sets of the Jaws of Life extraction tool to remove the teenagers from the crumpled vehicle, according to The Enterprise newspaper.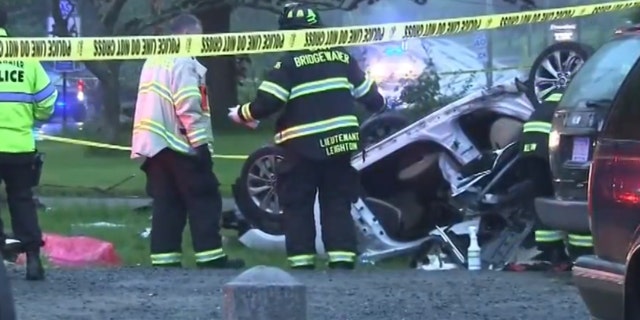 DATA SAYS TESLA DRIVER HAD HANDS OFF WHEEL BEFORE UTAH CRASH
Neighbors in the area where the crash took place told Boston 25 News they never witnessed a crash as severe as the one on Saturday.
"It's awful, the poor families, that car is destroyed and there's nothing left of it at all," Aaron Bill said. "I felt sorrow for all the families that lost everything that happened, and I'm just hoping it's no one I know really, cause I don't know yet."
Authorities are now investigating if speed and the rain may have been contributing factors in the deadly crash. Investigators still haven't confirmed how fast the car was going, and were working on Saturday to reconstruct the accident scene.
"It's scary, I feel bad for their families and for the people, their friends," neighbor Jessica Kehoe told Boston 25 News.