Rescuers are searching for a 39-year-old National Guard member Monday who was reported missing a day after he was swept away by fast-moving floodwaters in Maryland's Ellicott City while attempting to rescue people during devastating floods, family and officials said.
Eddison Hermond, of Severn, was reported missing around 12:30 a.m. Monday, hours after sudden, violent floodwaters destroyed businesses, submerged vehicles and left some flipped and in pieces, Howard County Executive Allan Kittleman said. Friends and relatives on Facebook said Hermond, a National Guard member, was rescuing people after 4 p.m. Sunday when he was swept away by floodwaters, WBFF-TV reported.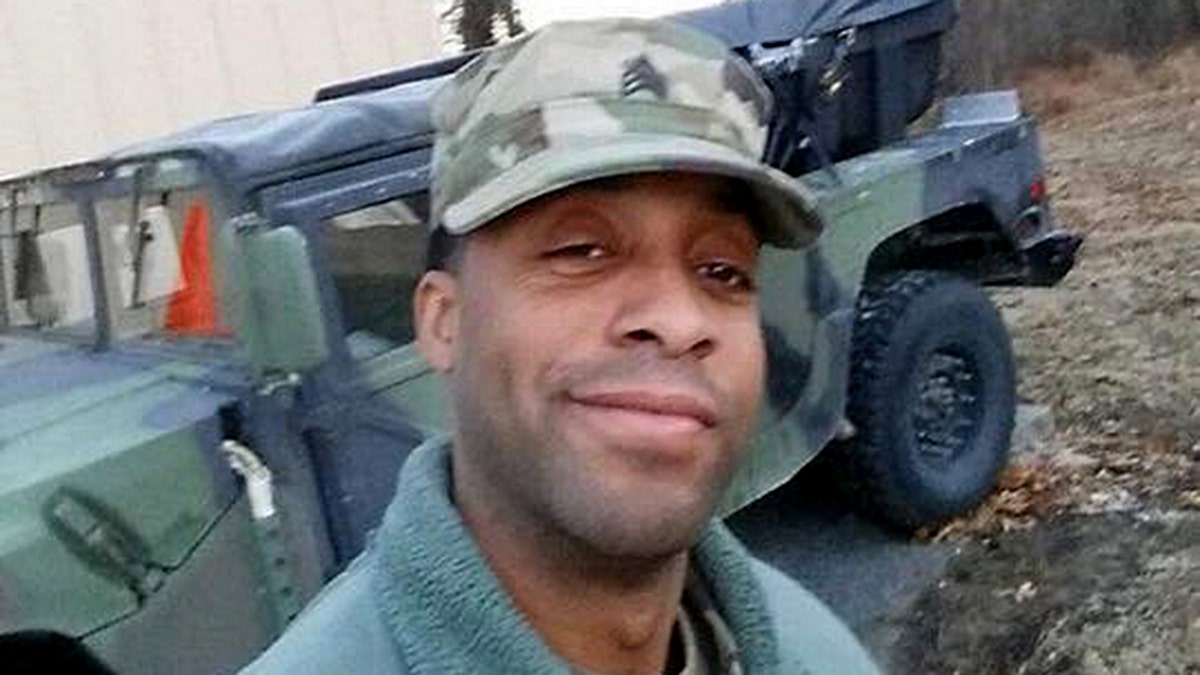 Hermond was last seen in the La Palapa area near Lot D on Main Street around 5:20 p.m. Sunday, Howard County Police Department said. Hermond was described as being 5 feet 10 inches tall and 160 pounds.
Officials said he was holding a door to a restaurant closed until he and others left to assist a woman whose cat had gone missing. Witnesses said they saw Hermond go under water, officials said Monday.
"We're continuing to search for the missing gentleman. Nothing is off the table," Howard County Fire Chief John Butler told reporters Monday afternoon, adding that rescuers aren't yet making "assumptions."
By Monday, the storm had calmed but residents of the city, about 13 miles west of Baltimore, were left attempting to sort through the damage. At least 300 people in "hazardous areas" were assisted and at least two dozen were stranded or rescued from waters, Butler said.
Additionally, two buildings caught fire during the storm, one possibly because of a lightning strike, Butler said.
"They say this is a once every 1,000-year flood and we've had two of them in two years," Maryland Gov. Larry Hogan said.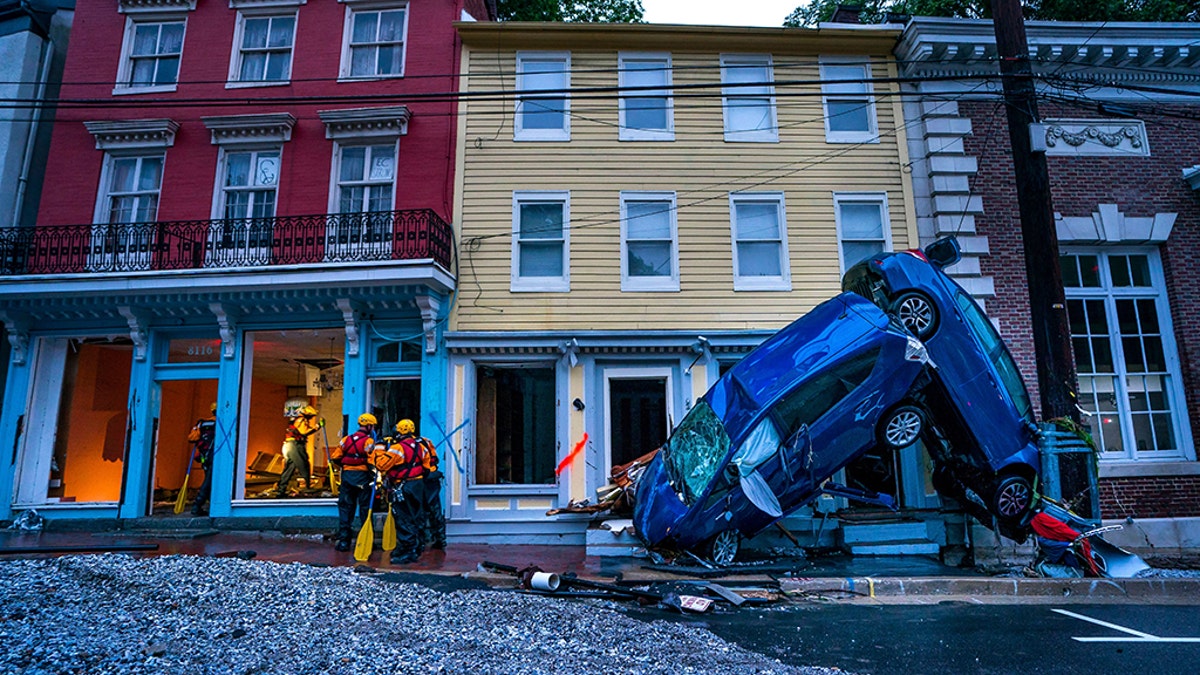 Hogan declared a state of emergency Monday morning
The last time the city of nearly 66,000 experienced such catastrophic flooding was in 2016, when two people there were killed and the city was left with millions in damages. Kittleman said Sunday night's flooding was "worse than" the July 2016 storm.
No deaths were yet reported in this storm. Officials said Monday some minor injuries have been reported.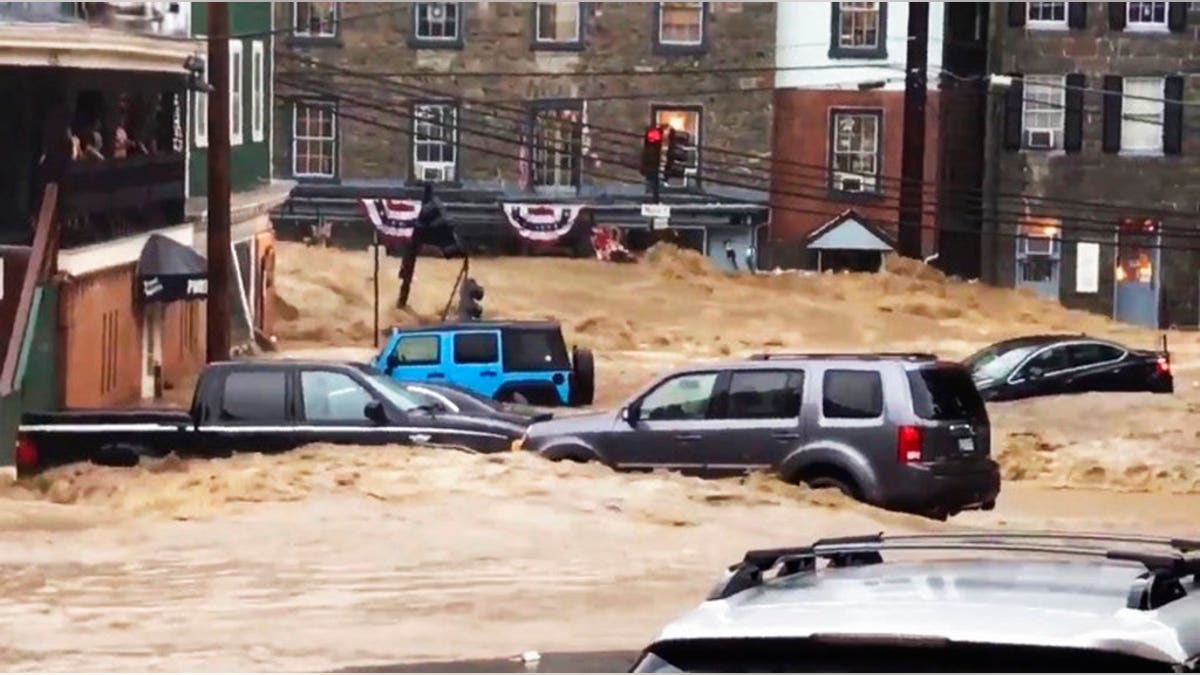 "I can tell you my heart is broken thinking about what people are going through here, and the people's lives who were devastated two years ago and they rebuilt, and now they're faced with the same daunting task again," Kittleman said.
Photos and videos from the scene showed brown water rushing through the streets, carrying along anything in its path. Some footage showed the water reaching just below a "Stop" sign. Others showed stoplights partially knocked down as people stood on dry land watching the torrent of water.
About 600 customers were reported to be without power by Monday morning, according to Baltimore Gas and Electric Company, The Baltimore Sun reported.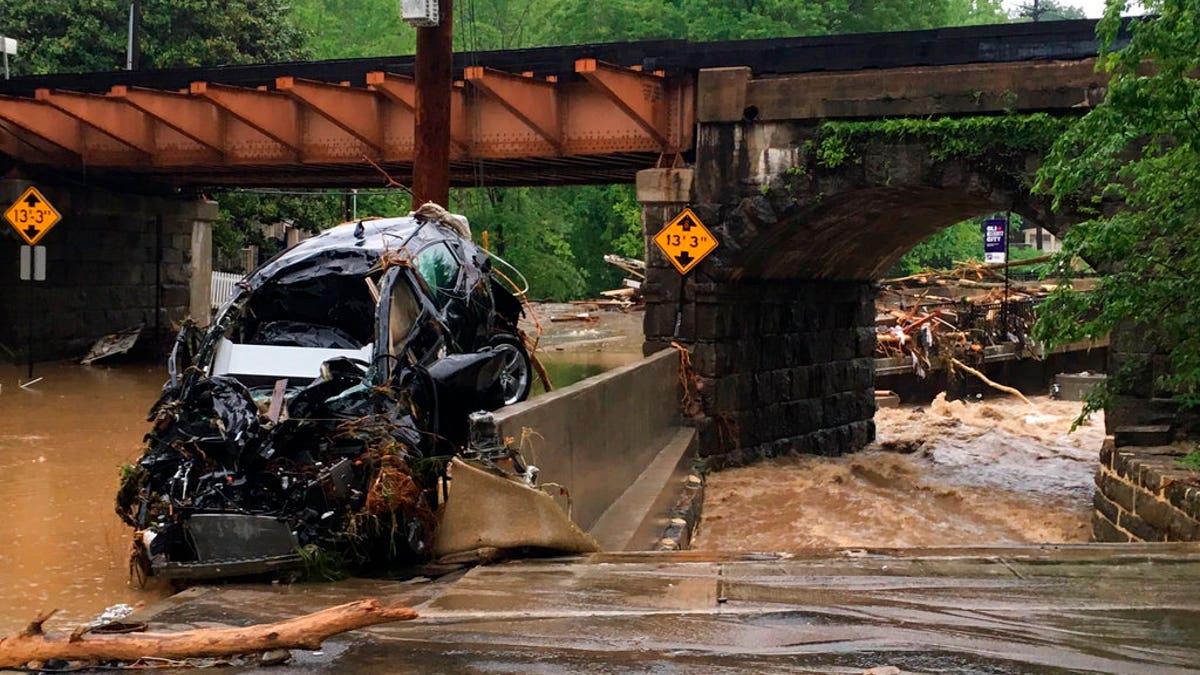 Jessica Ur, a server at Pure Wine Cafe on the city's Main Street, told The Baltimore Sun that she watched as gushing waters swept three or four parked cars down the street.
"It's significantly higher than it was before," she told the newspaper, comparing the floodwaters to those of 2016. "At this point, I'm definitely really worried about all our neighbors on Main Street."
The floodwaters reached the first floor of most buildings. In some, it had reached even higher. Len Berkowitz, the owner of Great Panes Art Glass Studio in Ellicott City, said he hasn't seen his shop yet, but knows "it's going to be devastating."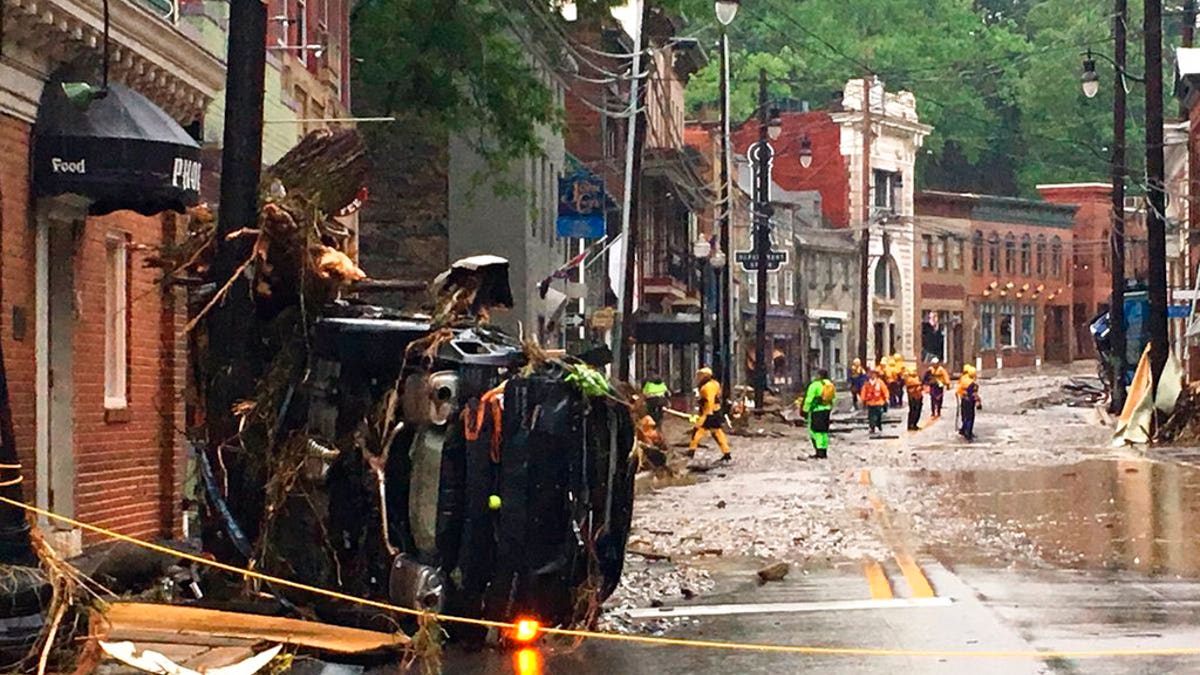 He added, "But there's nothing you can do, I guess. Nature has its way."
A wedding party was forced to evacuate its venue when the doors couldn't keep the floodwaters out.
"It looked like we were in the Titanic or 'The Poseidon Adventure,'" the bride's father, Bill Rigney, told The Baltimore Sun.
Photos from the aftermath showed two vehicles stacked up in a triangle form while others had parts destroyed or missing after colliding into other cars.
The community received nearly eight inches of rain over a six-hour period, but more fell during an intense, three-hour period. In July 2016, Ellicott City received 6.6 inches of rain over a two- to three-hour period.
"In a normal heavy rain event, you wouldn't see this amount of flooding, where you see cars floating down the road," National Weather Service meteorologist Mike Muccilli said. "This was a true flash flood."
Ellicott City has been rebuilding since the 2016 flooding. Local officials recently said that 96 percent of the businesses were back in operation and more than 20 new businesses had again opened in the Main Street area.
"Time to rebuild, that's it," Michel Tesiguel, a restaurant owner, said. "It's no question for us. We rebuilt the building last time, so that helped … Our plan is to get it as soon as the county lets us in."
Those who need help – that isn't an emergency – can call a hotline set up by Ellicott City: 410-313-2900. An emergency shelter has also been set up at the Roger Carter Community Center, according to The Baltimore Sun.
The Associated Press contributed to this report.