Man gets longer prison term for sexually assaulting toddler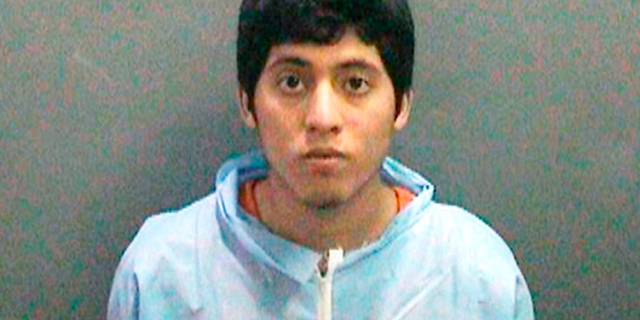 NEWYou can now listen to Fox News articles!
NEWPORT BEACH, Calif. – A California man convicted of sexually assaulting a 3-year-old girl got a new sentence Friday of 25 years to life in prison after an appeals court found the trial judge handed down a 10-year sentence that was too lenient.
Kevin Rojano-Nieto, 23, also was ordered to register as a sex offender, the Orange County District Attorney's Office said. The original sentence outraged victims' rights groups and sparked an unsuccessful drive to recall Superior Court Judge Michael Marc Kelly.
Rojano-Nieto was convicted in 2014 of two felony counts, sexual intercourse or sodomy with a child 10 years or younger and lewd acts upon a child under 14.
The crimes occurred earlier that year when the girl, a relative, wandered into the garage of his Santa Ana home as he was playing video games. The girl later told her mother she was in pain and was taken for a medical exam that led to the charges.
The defense contended that Rojano-Nieto, who had no criminal record, suffered from psychological issues stemming from growing up in a dysfunctional and abusive family.
Kelly sentenced Rojano-Nieto to 10 years in prison in 2015 rather than the state-mandated term of 25 years to life.
In an analysis, the judge said he compared sentencing for similar and other offenses, looked into details of the case and took into account a court-ordered psychological examination and a sentencing report that concluded Rojano-Nieto wasn't a true pedophile or sexual predator and would not pose a danger to society.
Kelly wrote that the mandatory term would be "grossly disproportionate" in the case and would be unconstitutionally cruel and unusual.
"The manner in which this offense was committed is not typical of a predatory, violent brutal sodomy of a child case," he wrote.
The judge wrote that the act was "serious and despicable" but also that Rojano-Nieto stopped the assault within seconds and was remorseful, the girl wasn't seriously injured and her parents had urged leniency.
Prosecutors took their objections to California's 4th District Court of Appeal, which agreed in January 2017 and ordered Kelly to impose the mandated sentence.
In its ruling, the appeals court said the judge ignored "important undisputed evidence about the entire scope of Rojano's actions."
"Violent physical injury is not what makes the crime of sodomy against a young child a serious and horrific crime," the court said. "Put simply, a sex offense against a small child is a grave offense because of the vulnerable nature of the victim and the risk of psychological harm to the child, regardless of any associated physical injury."
The ruling also said that even "an extremely immature 19-year-old should understand that it is wrong to sodomize a three-year-old child and should be able to control his sexual impulses."