Maine couple captures North American Wife Carrying Championship; Finland may be next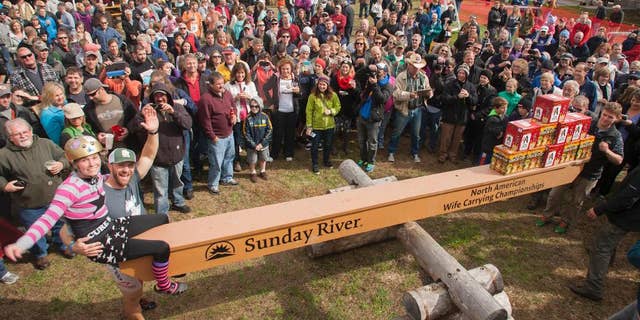 NEWYou can now listen to Fox News articles!
NEWRY, Maine – Four times they've been bridesmaids but now two people from Maine are champions of the North American Wife Carrying Championship.
Jesse Wall carried Christina Arsenault over a 278-yard course Saturday that was bedeviled by log hurdles, sand traps and a "widow maker" water hazard at Sunday River ski resort to claim the crown in a time of 1 minute, 4.1 seconds.
About 50 couples competed with the winners taking home Arsenault's weight in beer and five times her weight in cash: $482.50.
Unmarried couples like Wall and Arsenault can compete. The two have finished second twice and third twice. Arsenault says they're able to do so well because she's "wicked small" and he's "wicked strong."
Wall and Arsenault are now qualified for the world championship next summer in Finland.