Lawyer for Indian envoy seeks delay in visa fraud case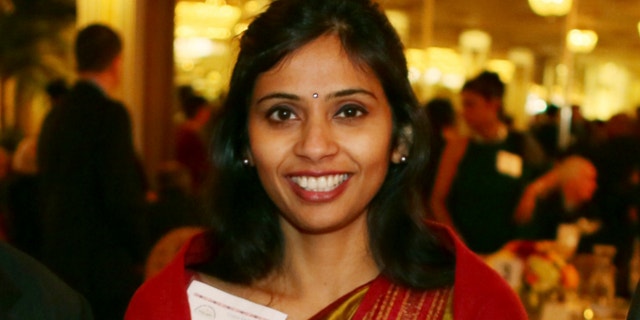 A lawyer for an Indian envoy accused of accused of lying on a visa form about how much she paid her housekeeper is seeking to postpone proceedings in a visa fraud case that has sparked a diplomatic rift between the United States and India.
In a letter to a federal magistrate judge in New York, the lawyer, Daniel Arshack, requested an extension of the time by which the federal government must file an indictment or hold a preliminary hearing, Reuters reported.
The case was adjourned until Jan. 13, the date by which the government must commence a preliminary hearing or file an indictment. Arshack requested that Magistrate Judge Sarah Netburn extend the deadline by 30 days to Feb. 12, according to Reuters.
Arshack has represented Devyani Khobragade since she was arrested Dec. 13, charged with lying on a visa form by stating she paid her housekeeper $4,500 a month when she actually was paying her under $3 per hour, less than half the minimum wage.
Secretary of State John Kerry has expressed regret over the case while Indian officials have said they are outraged, particularly at a strip-search of Khobragade that they say was degrading and unnecessary, though U.S. authorities have called it standard procedure.
Khobragade has said she has full diplomatic immunity, though U.S. officials have said her immunity is limited to acts performed in the exercise of consular functions.
She has been transferred to India's United Nations mission, an assignment that has been processed by the Indian government and the United Nations but awaits U.S. State Department approval. She would have broader immunity in that position.
The Associated Press contributed to this report.