Las Vegas shooter's final days before killing spree seen in creepy new video
Dozens of surveillance videos of Las Vegas shooter Stephen Paddock wheeling around luggage stocked with weapons and ammunition were released by MGM Resorts Thursday amid lingering questions about the motive of the attack.
The 32 clips show Paddock interacting with Mandalay Bay staff, playing the casino's gaming machines and transporting suitcase after suitcase to his 32nd floor suite, where he proceeded to gun down 58 people on Oct. 1 in what is considered to be the worst mass shooting in modern American history.
"Stephen Paddock gave no indication of what he planned to do and his interactions with staff and overall behavior were all normal," MGM spokeswoman Debra DeShong said in a statement obtained by Fox News. "Our focus continues to be on supporting victims and their families, our guests and employees, and cooperating with law enforcement with their ongoing investigation."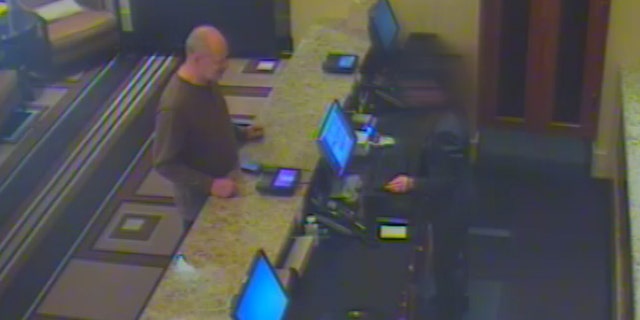 The statement also described Paddock as a "long-time guest with no known history of threats or violence and behaving in a manner that appeared outwardly normal."
It was not immediately clear, however, if hotel staff ever questioned why a single guest at the resort on the Las Vegas strip would need so many pieces of luggage for his stay.
In all, Paddock brought in 21 bags over the period of about a week, according to the New York Times, which obtained the surveillance tapes.
Police reportedly found 23 weapons in Paddock's room after the shooting, including AR-15-style and AK-47-style rifles.
In one clip, Paddock waits for two people with inflatable pool toys to exit an elevator before entering it. Other footage shows him driving away and returning to the resort.
The motive for the horrific attack is still unknown, but could be revealed within the next seven months. The chief of the FBI's Las Vegas office said in December that the agency probably wouldn't brief the public until their report is released sometime before the tragedy's first anniversary.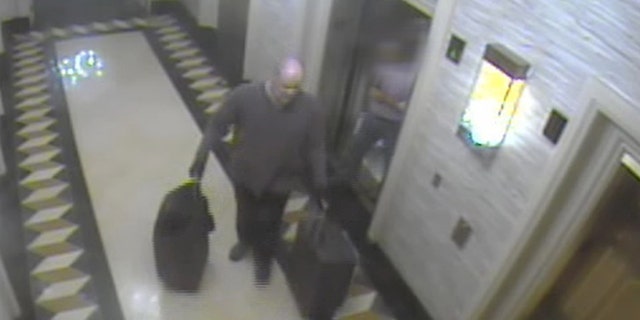 "Now that's a long time for some people, but speaking for the FBI, that's light speed, all right?" Special Agent in Charge Aaron Rouse had said.
Rouse said reports from other agencies investigating the mass shooting will be released at different times, but the FBI's one is "focusing a large part on the why" which is "what everybody wants to know."