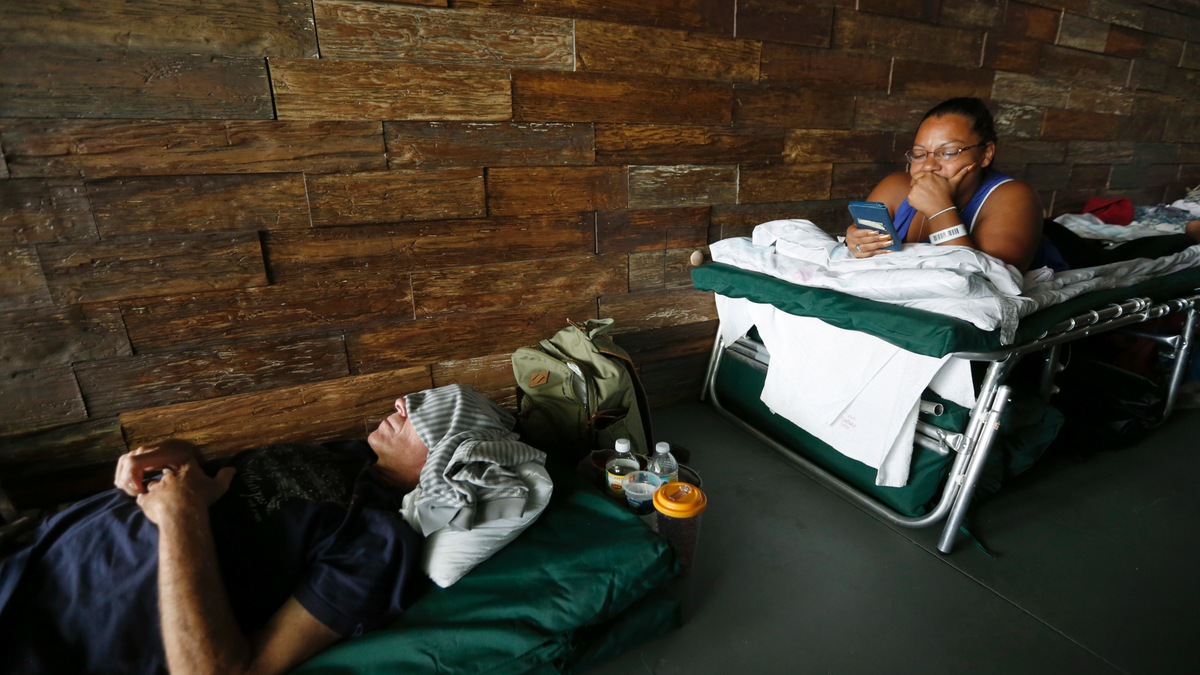 MIAMI – It's been one week since Margherita Lopez has taken a shower. She's been shuffled to three different shelters since evacuating her home in Key West last week as Hurricane Irma approached. She's slept on a gymnasium floor without a cot, has struggled to find food and says she feels like emergency management officials have forgotten her.
"It's been a nightmare ... there should have been a better plan," said Lopez, a 43-year-old woman who fled an abusive relationship and entered a women's shelter and later a communal facility in Key West run by the Florida Keys Outreach Coalition.
Lopez isn't alone in her frustration. Across Florida, local, state and federal emergency officials are struggling to assist the flood of evacuees, many of whom are seeking temporary or permanent shelter from a storm that cast a wide swath across the state. Even Keys residents who have a home to return to have been left without power, water and sewage service.
The state says about 7,500 people were in nearly 100 shelters as of Friday, and that the Red Cross planned to open four shelters in the Keys once the area was properly surveyed.
Wearing a donated Mickey Mouse T-shirt, Lopez sat in a room Thursday on Florida International University's campus that had air conditioning but smelled like a pet store. She shared the space with about 30 fellow evacuees from the same organization, their room lined with green cots with Red Cross blankets. Three shopping carts full of donated water, canned food and clothes sat in the entryway.
Everyone sleeping there had been housed together because they had been deemed to have "special needs." Lopez is bipolar and has panic attacks.
Michael Todd, 63, is part of the same group but is not considered special needs. He spent Thursday night with hundreds of other Keys residents at a pavilion on fairgrounds next to the university. Everyone there had a cot, blankets, hot meals, snacks, showers, toiletries and even a playground for children. Todd evacuated a week ago, but it took him and dozens of others who evacuated from the Keys several days to get settled at the fairgrounds.
When they first arrived at FIU's gymnasium last Thursday it was chaos, he said. "We were immediately told there were no cots, no blankets," he said.
They slept on the floor in a cold gym where the lights stayed on all night. They were moved to another nearby building and were again told there were no cots. A Red Cross worker offered him a piece of cardboard to lie on. Some people got squares of carpet, he said.
Monroe County, the Keys county government, has designated the gym in the Miami suburbs as its emergency shelter. Todd said he repeatedly asked where Monroe County emergency officials were and got no answers.
"Monroe County officials dropped the ball big time ... they weren't there, physically in body or in communication, and the Red Cross was throwing up their arms saying this isn't their baby," he said.
The county has been relying on bare-bones staff since Irma made landfall there Sunday, decimating parts of the area. Communication has been limited. A telephone message and emails left by staff were not immediately returned Friday.
Emails to Red Cross officials and FIU were not immediately returned. Students are slowly trickling onto campus as classes were slated to resume Monday.
The Federal Emergency Management Agency has given few details about its plan for short-term and long-term housing, saying only that trailers like those used in Hurricane Katrina will be used only as a last resort. Instead, FEMA may help pay for hotels, apartments, temporary housing and quick-fixes to help people move back into their homes.
Liliana Caminero, a 54-year-old nurse, filled out her FEMA application Thursday, saying her Miami apartment is uninhabitable. She complained to her landlord for months to repair the roof, warning that bright orange spots showed up on her ceiling every time it rained. After Irma swept through, large chunks of drywall hung from the ceiling, leaving a soggy, moldy, dangerous mess.
She's staying with a family member but is only allowed until Sunday. She's tried to book a hotel but can't find one available for nearly two more weeks. She could stay with her son in New York, but that would mean quitting her job. She wants to break her lease, but says her landlord is threatening to fine her, and she worries that could be a strike against her if she tries rent a new place.
"I feel like I am alone in the world, like I'm on the border to being homeless," she said.
Cheyanne Spencer, 25, evacuated from her apartment in Key West to a hotel in Fort Myers, where she weathered the storm with family members. The hotel lost power and they traveled back south again, landing in Homestead, where they are bunking with Spencer's mother's boss.
Spencer doesn't know whether her home near the water in Key West survived, but she's not optimistic.
"It's depressing," said Spencer, a certified nursing assistant who helped evacuate patients from Key West to the mainland before Irma. "We worked hard for everything we have and it's all taken away. What do we do now?"
___
Associated Press write Jay Reeves in Fort Myers, Florida, contributed to this report.