Iran Calls Wall Street Protests 'American Spring'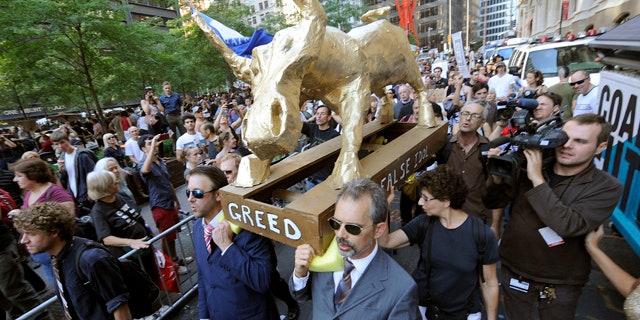 TEHRAN, Iran – An Iranian military leader says the protests spreading from New York's Wall Street to other U.S. cities are the beginning of an "American Spring," likening them to the uprisings that toppled Arab autocrats in the Middle East.
Gen. Masoud Jazayeri of Iran's Revolutionary Guard says the protests against corporate greed and the gap between rich and poor are a revolution in the making that will topple what he called the Western capitalist system.
The Occupy Wall Street movement started in New York City last month and is spreading to other parts of the country. The loosely affiliated movement is peacefully protesting the power of the financial and political sectors.
Jazayeri says President Barack Obama's election promises of change have reached a dead end.
The official IRNA news agency quoted Jazayeri as saying Obama's failure to resolve the Wall Street crisis "will turn this economic movement into a political and social movement protesting the very structure of the U.S. government."
Protesters Sunday paraded with an effigy of the Golden Calf in New York's Zuccotti Square.
"It's a false idol, just as much as the Wall Street bull has been a false idol for so many of us for so long," Ed Needham, a protester, told the New York Daily News.
Church groups joined the protest near Wall Street to talk about corporate greed, jobs and the need to provide for those who are disenfranchised, MyFoxNY.com reported.
The nearly four-week-old protest that began in a lower Manhattan park has taken on a semblance of organization and a coherent message has largely emerged: That "the 99 percent" who struggle daily as the economy shudders, employment stagnates and medical costs rise are suffering as the 1 percent who control the vast majority of the economy's wealth continues to prosper.
Labor unions and students joined the protest on Wednesday, swelling the ranks for a day into the thousands, and lending the occupation a surge of political clout and legitimacy. President Barack Obama said Thursday that the protesters were "giving voice to a more broad-based frustration about how our financial system works;" some Republicans have been seeking to cast Occupy Wall Street as class warfare.
The Associated Press contributed to this report.