Innocence Project: DNA frees Oklahoma man convicted of rape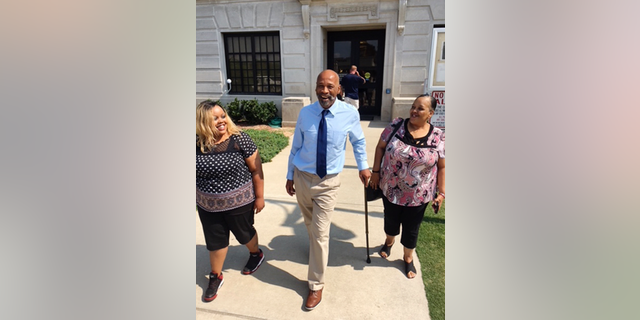 OKLAHOMA CITY – An Oklahoma man who spent more than 30 years in prison for rape in southeastern Oklahoma is free after the Innocence Project presented DNA evidence it said excluded him from the crime.
Court records show 56-year-old Perry Lott was released Monday.
Lott was sentenced in 1988 to more than 200 years for rape, robbery, burglary and making a bomb threat related to the 1987 attack on a woman at her home in Ada, about 65 miles (105 kilometers) southeast of Oklahoma City.
Pontotoc County District Attorney Paul Smith declined to vacate the convictions, but offered to modify the sentence to time served.
Innocence Project attorney Karen Thompson said Tuesday that she's frustrated Lott wasn't exonerated.
"It's just a travesty, I don't think there's a better word for it, but I'm thrilled he's out and he's home," Thompson said. "Mr. Lott just decided that after it was offered, time served, that he didn't want to spend one more day in prison. He was exhausted; he was tired."
Smith said the victim identified Lott, but that there could be no DNA match because the attacker wore a condom and gloves.
"We don't believe (DNA) proves anything," Smith said Tuesday. "On the small slim chance that we could be wrong, and that justice be served, we agreed to his compromise."
Smith said the agreement maintains Lott's convictions and that he must register as a sex offender. He said it avoids putting the victim through the ordeal of a possible re-trial.
Thompson said the case is somewhat like a pyrrhic victory because of the cost that includes Lott being required to be employed despite health problems that include back issues.
"Clearly we're very disappointed, but he's free. ... That's a wonderful thing for him and his and his family," Thompson said.
Thompson said after Lott was released, he went out to eat with two brothers, a sister and a woman who was his fiancee at the time of his arrest.
"We went to Red Lobster. He said that for years, when he left prison he wanted to have seafood," Thompson said.
Lott was not immediately available for comment Tuesday as he was preparing to travel to his native Wisconsin, where he plans to initially live with family.