Injured border guard takes first steps, official says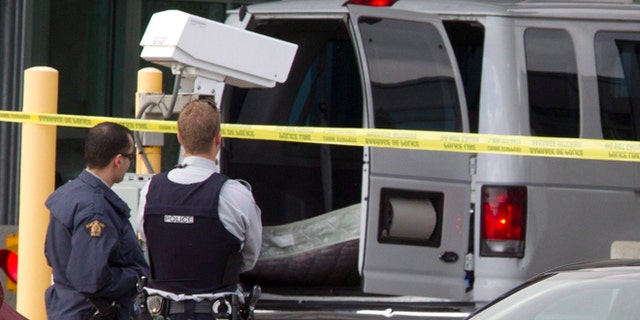 BLAINE, Wash. – A Canadian border guard who was shot and wounded by a Washington state man who then killed himself has been able to take her first steps as she recovers in a hospital, a senior border official said Thursday.
Officer Lori Bowcock remained hospitalized in the Vancouver, British Columbia, area. She was shot in the neck Tuesday at a busy U.S.-Canada crossing north of Seattle.
Her relatives said Thursday they are optimistic she will make a full recovery.
According to the Bellingham Herald, Kim Scoville, executive director of the Canada Border Services Agency's Pacific region, told reporters that the bullet missed major arteries.
A trauma surgeon who worked on Bowcock called her the "luckiest unlucky person" he had met, Scoville said.
Investigators say Andrew Michael Crews, a 32-year-old Seattle tattoo artist, was driving a van into Canada when he fired at Bowcock in her booth, then turned the gun on himself. He died at the scene.
"The thing that people want to know is what was the motive and we don't have that yet," Sgt. Jennifer Pound, a spokeswoman for the Royal Canadian Mounted Police homicide investigation team handling the probe, said Thursday.
Superintendent Kevin Hackett of the homicide team has said the evidence indicates Crews deliberately fired at Bowcock but there is no evidence to show she was specifically targeted.
Pound said investigators don't believe Crews and Bowcock knew each other.
The Seattle man's stepfather, Danny Lupinek of Henderson, Nev., said Wednesday that Crews texted his mother hours before the shooting to say he loved her -- and was sorry.
Lupinek said Crews didn't explain what he meant in his text, and the family was unable to reach him after that. He said Crews had given no indication he was upset or headed to Canada.
Bowcock worked as a civilian dispatcher at police headquarters in London, Ontario, until last spring. As a new border guard, she had not yet completed training that would allow her to carry a gun, the Border Services Agency said.
Scoville said Bowcock plans to finish that training and hopes to return to work.
In a statement released by the border agency, Bowcock's family thanked those who helped her after the shooting and everyone who has sent flowers, cards and letters of support.
"She is doing well and we are happy to report that her positive outlook and sense of humor are shining through," the statement said. "She remains in stable condition, and we are optimistic that she will make a full recovery."
The Bowcock family added that their thoughts and prayers were with the family and friends of Andrew Crews.
The Peace Arch border crossing about 100 miles north of Seattle was shut down after the shooting. The southbound lanes reopened Wednesday afternoon and the northbound lanes Thursday morning.
It's the third-busiest border crossing between the United States and Canada. Last month, it averaged 9,000 U.S.-bound cars a day, according to U.S. Customs and Border Protection.