Indiana church protests Trump's immigration policies by holding Jesus, Mary and Joseph in 'ICE detention'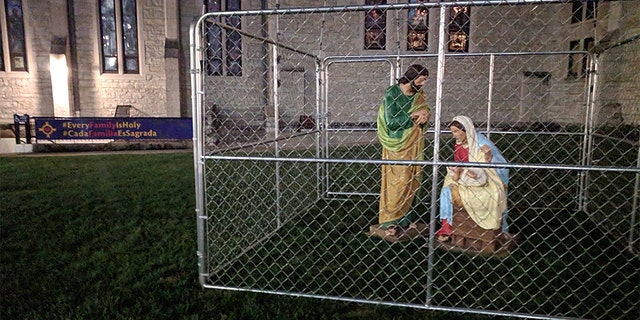 An Indianapolis church locked the figures of Joseph, Mary and baby Jesus in a cage Monday night to protest the Trump administration's "zero-tolerance" immigration policy.
Called the #EveryFamilyIsHoly campaign by Christ Church Cathedral, statues of the Holy Family are in front of the church in an "ICE detention" chain link cage to "bring awareness to the humanitarian atrocities from our nation's 'zero-tolerance' immigration policies on the border and here in Indianapolis."
The display was set up weeks after thousands of minors were separated from their families at the border. After national outrage from both sides, Trump signed an executive order in late June allowing families to remain together in detention.
Stephen Carlsen, dean and rector of Christ Church Cathedral, told Fox News the demonstration will remain outside the downtown Indianapolis church however long it's needed.
"Holy Scripture is clear about how we are to treat people trying to find safety for their families – we are to show mercy and welcome them," Carlsen said in a statement.
"The Holy Family today calls us to stand with all families seeking safety and a future for their children," he continued. "We will not stand by while children are being taken from their parents, and families are being taken from our communities and congregations."
WHAT TRUMP'S 'ZERO-TOLERANCE' IMMIGRATION POLICY MEANT FOR CHILDREN SEPARATED FROM FAMILIES AT BORDER
Carlsen said the church puts out a crèche – the Nativity scene that often includes the Holy family, shepherds, the star of Bethlehem and angels – every year around Christmas as a "symbol of a homeless family with nowhere to go and where Christ was born." That display, he said, "challenges us on how we treat the most vulnerable people" – which he hopes the new display will do, too.
The historical church, located a block from the statehouse in Monument Circle in Indianapolis, also encouraged its congregants to join a protest against the administration's immigration policies in June.
Christ Church Cathedral bills itself as a "refuge for the city" and is "mission-minded" with an emphasis on the homeless, LGBT and Hispanic communities in Indianapolis, according to its website.