Illegal immigrant detained after pizza delivery at military base arrested again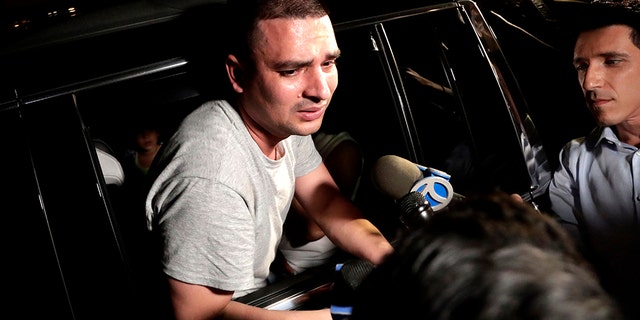 An illegal immigrant who was detained but later released after delivering pizza to a military base in New York has been arrested again — this time for alleged domestic violence.
Pablo Villavicencio, an Ecuadorean native, pushed his wife against a wall before slapping her and grabbing her phone to keep her from calling the cops, a criminal complaint claimed.
JUDGE ORDERS RELEASE OF ILLEGAL IMMIGRANT DETAINED BY ICE DURING PIZZA DELIVERY AT MILITARY BASE
The incident allegedly took place at the couple's home in Hempstead, Long Island. Villavicencio was arraigned Saturday on a misdemeanor charge and remained jailed Monday afternoon.
He was detained in June at the Fort Hamilton Army base in Brooklyn. His wife said at the time that Villavicencio was doing a routine delivery when he was asked for a valid identification document.
Villavicencio was arrested but was later released from a holding facility in New Jersey following a federal judge's orders. The government declined to appeal the July decision freeing him.
Immigration and Customs Enforcement (ICE) told Fox News in June that an immigration judge granted Villavicencio voluntary departure in March 2010 but he failed to leave as ordered.
The Associated Press contributed to this report.