House Pushes for Missile Defense Improvements to Counter Russia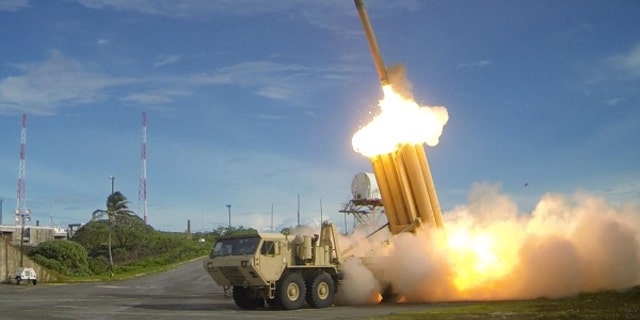 The House Armed Service's Strategic Forces subcommittee said Wednesday that Russia's acts of aggression on the Ukraine border have increased the urgency in developing America's missile defense systems.
Subcommittee leaders made their comments in the markup of the 2016 National Defense Authorization Act in which they called developing a new kill vehicle for ground-based missile interceptors a top priority.
The details for the proposed defense package released Wednesday includes $8.1 billion for various missile defense programs, including a multiple-object kill vehicle for dozens of ground-based interceptor systems based in Alaska, and California.
Navy Adm. James Syring, director of the Missile Defense Agency, told Congress in March the multi-object kill vehicle "will revolutionize our missile defense architecture" by enabling each ground based interceptor to take out multiple incoming targets.
The kill vehicles are released in space by booster rockets. The rockets use onboard sensors to detect an incoming target and then fire built-in thrusters to move it into a collision course with the target.
Subcommittee members questioned in the markup whether Russia has remained in compliance with the Intermediate Nuclear Forces Treaty. The U.S. lawmakers urged President Obama to increase spending on "research and development of counter-force and countervailing U.S. responses [to the Russian violations] with a priority on capabilities that could be deployed in two years" if the Russians are not meeting the terms of the treaty.

In December, the House and Senate passed the Ukraine Freedom Support Act of 2014, which imposed sanctions on Russia over its involvement in Ukraine.
Congress has been pressing Obama to get tougher with Russia over the alleged violations for more than a year. Russia denies it is in violation of the INF.
Subcommittee members wrote in the markup that they want to see "rigorous flight testing of the system not later than 2020."
Meanwhile, the military is also working on a system called the Redesigned Kill Vehicle. The RKV is intended to replace the second generation kill vehicle, which had some development and testing setbacks.
While the Pentagon continues work on the multi-object kill vehicle, lawmakers said they do not want development of that program to interfere with the RKV.
The NDAA's strategic forces funding also includes money to modify the current booster to increase survivability and accommodate the RKV and to continue development of long-range discrimination radar that could differentiate between incoming warheads and decoys.
The House Armed Services Strategic Forces subcommittee markup of the 2016 NDAA also included funding for:
Development of Terminal High Altitude Area Defense (THAAD) extended range development, as well as purchase of 30 THAAD interceptors.
80 Missile Segment Enhancement systems, considered an improvement over the Patriot Advanced Capabilty-3 missile, with greater agility and lethality.
Continued conversion of Aegis ships to provide ballistic missile defense capability and to buy 40 SM-3 Block IB missiles for deployment aboard Aegis BMD vessels at the Romania Aegis Ashore site.
Israel's Iron Dome missile defense system and its Arrow and David's Sling weapons systems.
-- Bryant Jordan can be reached at bryant.jordan@military.com