Hospital staff mourns surgeon killed in shooting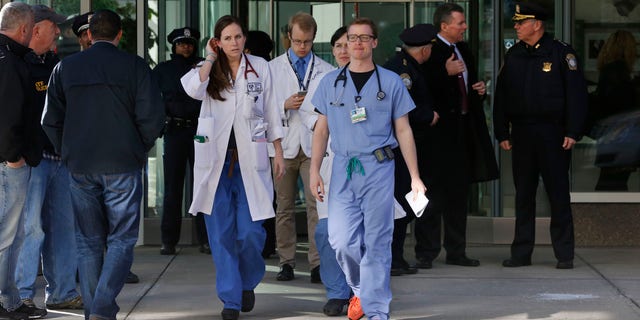 BOSTON – Administrators and staff at a leading Boston hospital are mourning the death of a cardiac surgeon who was fatally shot at the hospital by a man who then killed himself.
Officials at Brigham and Women's Hospital said Dr. Michael J. Davidson, director of endovascular cardiac surgery, died late Tuesday after being shot around 11 a.m.
"Dr. Davidson was a wonderful and inspiring cardiac surgeon who devoted his career to saving lives and improving the quality of life of every patient he cared for," said a statement issued by the hospital, which is affiliated with Harvard Medical School. "It is truly devastating that his own life was taken in this horrible manner."
Police said Stephen Pasceri, 55, entered the hospital Tuesday morning and specifically requested the doctor.
Pasceri, of Millbury, shot the doctor twice just outside an examination room on the second floor of the Carl J. and Ruth Shapiro Cardiovascular Center; he then turned the gun on himself, police said.
Boston Police Commissioner William Evans said officers conducting a room-by-room search found the gunman dead in an exam room with the weapon.
Police said Pasceri wasn't a patient of the doctor's and they didn't specify a motive for the shootings.
Boston Mayor Martin J. Walsh said he was "deeply saddened" by Davidson's death. "This tragedy is the result of a senseless act of violence that has no place in our City," he said in a statement early Wednesday.
Evans said earlier Tuesday that police were talking to witnesses, "but it's leading us to believe there was something in the past that upset this guy, that made him go in and look for this particular doctor."
Police and hospital officials commended the fast response by police and hospital staff, who they said had been trained to respond to an "active shooter" situation.
Evans said police were on the scene within seconds after getting the first calls of shots fired and had the area secured within 15 minutes.
Betsy Nabel, the hospital's president, said Brigham and Women's will evaluate its safety protocols. She said there have been no discussions about installing metal detectors, which none of the city's hospitals have.