Hero dog rescues his pal from drowning in pool in viral video
An Arizona family filmed a remarkable video that showed a dog save his buddy who fell into a pool and struggled to get out.
Smokey and Remus, the dog buddies, were reportedly getting "rambunctious" earlier this month at their home in Mesa, Ariz. And at some point, Smokey fell into the family pool.
The dog is seen struggling to get out while Remus was pacing along the side.
After a few unsuccessful attempts to get the dog out of the water, Remus can be seen jumps into the pool to give his buddy a nudge.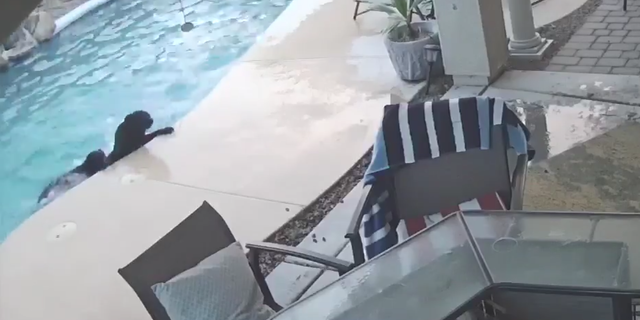 The incredible video was captured by Laurie and her husband Jay Becerra on security camera, KSAT.com reported.
"So Remus and Smokey got a little rambunctious. Smokey can swim just not well," Laurie wrote on social media. "Jay recorded this off our security camera when he saw Smokey all wet!
She praised "hero" dog Remus, saying though he may be "a crazy pup he's got a heart of gold."