Gunman in fatal Colorado school shooting deemed not a threat months before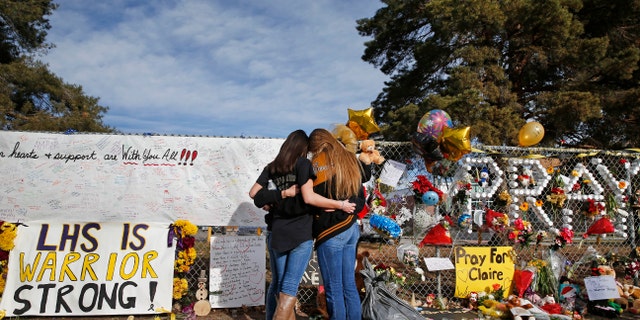 LITTLETON, Colo. – A teen who fatally shot another student at his suburban Denver high school last year had been deemed "not a high-level of threat" after shouting a death threat against his debate coach three months earlier, according to documents obtained by The Associated Press.
The disciplinary records show that Karl Pierson, 18, was allowed to return to class in September, less than a week after he was demoted from captain of the debate team and said he would kill the coach, who was a school librarian. The documents say Pierson showed no remorse for making the threat.
Authorities have said Pierson was targeting the debate coach when he entered Arapahoe High School on Dec. 13 with a shotgun, a machete and homemade bombs. Pierson killed a 17-year-old girl before taking his own life in the school library as security officers closed in. The coach, whose name has not been publicly released, escaped unharmed.
The documents offer the first glimpse into the response to the threat Pierson made Sept. 3. Authorities and school officials have acknowledged that he threatened the debate coach but have never explained how that threat was handled, even after other students' parents demanded answers.
The documents also show that just two days before the shooting, school officials sent Pierson home early after he pounded on a locked classroom door so hard that teachers in other classrooms could hear him.
The information in the documents, which were submitted into Pierson's student record by then-Assistant Principal Kevin Kolasa, was verified by two people familiar with the investigation who spoke on condition of anonymity because they were not authorized to talk about it.
Kolasa, now the assistant principal of a middle school in the same district, did not return calls seeking comment and was not home when a reporter visited.
Littleton Public Schools Superintendent Scott Murphy refused to comment on the documents this week, saying it is district policy not to comment on individual student disciplinary cases. Other officials, including the school district's attorney, Darryl Farrington, also declined to comment.
The case underscores the difficulty school officials face in accurately assessing a threat, said Kenneth Trump, president of National School Safety and Security Services, a consulting firm. School districts across the country have bolstered physical safety since tragedies such as the 1999 shooting at Columbine High School in Colorado, but they have focused less on preventative efforts such as how to thoroughly assess a threat, he said.
"There's always the question of how do you really know?" Trump said. "When you're dealing with human behavior, it's not a simple check-the-box, yes-or-no, black-or-white answer. It's gray. Threat assessment is trying to make sure it's less foggy and you have as much information as you can."
Authorities have said Pierson was harboring a grudge about being demoted from debate team captain and planned to harm the coach and others. He wrote numbers and letters corresponding to the library and four other classrooms on his forearm before he entered the school and fatally shot Claire Davis.
Investigators said the threat had been referred to law enforcement, but they have not elaborated. Arapahoe County Sheriff Dave Walcher declined to comment this week, saying the investigation remains open while more evidence from the case is processed.
The documents obtained by the AP show that after being demoted from his status as captain on the speech and debate team Sept. 3, Pierson left the school and yelled in a parking lot that he would kill the coach.
The school classified the incident as a threat against staff, and Pierson's parents were contacted, the report says. His mother decided to keep Pierson out of school for the next three days in order to seek the help of an outside psychologist, according to the documents.
On Sept. 9, the report says, school officials, including an assistant principal and a school psychologist, met with Pierson's parents, and "it was determined that he was not a high-level of threat and would be able to go back to his classes. Karl was apologetic for what he said, but was not remorseful and did not see a need in apologizing to (the coach)."
The report does not say how school officials came to their conclusion, and officials would not elaborate. Nor does it mention whether the district followed its threat assessment policy. Murphy wrote in a letter to parents in January that the policy includes "a mental health professional working with law enforcement, families, and other agencies."
School officials decided to meet again in two weeks about whether Pierson should remain on the debate team, but the results of that interaction are not detailed in the documents.
Two days before the shooting, on Dec. 11, Pierson was in the assistant principal's office to talk about pounding on a locked classroom door and yelling, disturbing other classrooms. The documents say Pierson left the classroom to use the bathroom but returned to find the door locked. When a student refused to open it, Pierson pounded loudly for 30 seconds.
Pierson calmed down and told the assistant principal he would apologize to the teacher, but he was sent home for the duration of the day.
Claire Davis' father, Michael Davis, declined to comment when asked about the documents Friday, and Pierson's parents could not be reached.
Trump, the school security expert, said threat assessment should involve multiple people with different viewpoints on the student, such as school resource officers, guidance counselors, teachers, psychologists, principals and the student's parents.
"It's not paralysis by analysis, but it's not working in isolation, either," Trump said.