Gunfire targeting Georgia deputy caught on video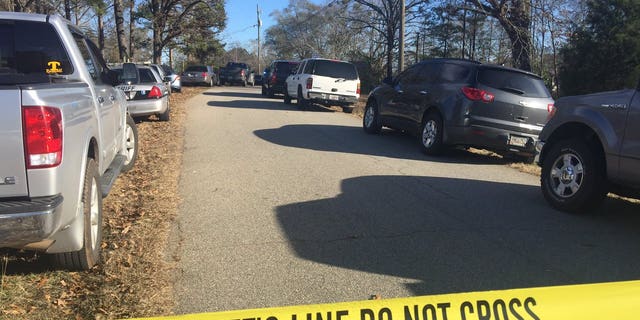 NEWYou can now listen to Fox News articles!
Dramatic police dashcam video emerged showing a gunman shooting a Georgia law officer as the officer returned fire and ran for cover.
WARNING: VIDEO MAY BE CONSIDERED GRAPHIC
The video, released Wednesday to Atlanta's WSB-TV, showed Troup County, Ga., sheriff's deputy Michael Hockett at a home responding to a man claiming his son was having a "mental health episode."
ARIZONA TROOPER SHOT WHILE RESPONDING TO CAR CRASH
The officer's dashcam recorded Hockett's confrontation, which unfolded Monday, with the suspected shooter, Matthew Edmondson.
Hockett was heard in the video yelling, "Drop the gun now." Moments later, Hockett was seen running back to his vehicle and climbing quickly over a fence as the shooter chased him and fired his weapon. Hockett was hit in the forehead, elbow and waist, and Edmondson, who was hit in the shoulder, retreated.
Hockett drove away and was treated for non-life-threatening injuries at West Georgia Medical Center. Meanwhile, a standoff emerged between Edmondson and a SWAT team, lasting several hours before Edmondson surrendered.
Edmondson, who remained hospitalized Thursday for his injury, faced several charges, including attempted murder, aggravated assault and false imprisonment, according to the Columbus Ledger-Enquirer.
"I'm thankful that the Lord seen me through it," Edmondson said. "I've replayed it in my head and I know in my heart that I did everything I could to do the best I could with the situation I'd been placed in."