Georgia teenagers missing after being swept away in swollen creek
NEWYou can now listen to Fox News articles!
The search for two teenage boys who were swept away in a swollen creek in Georgia resumed Sunday, as authorities said they "hope for a miracle" to find the pair alive.
The Oconee County Sheriff's Office said the 18-year-olds were reported missing on Friday around 3:45 p.m., after one of the men fell from a dam on Barber Creek located just outside of Athens and the other teenager went in to rescue him.
The waterway was swollen due to runoff from recent heavy rains in the area, which left conditions "extremely dangerous" for rescue crews to attempt to go in and search for the two teenagers, according to officials. A woman who witnessed the two get swept away tried to help, but also needed to be rescued, the sheriff's office said.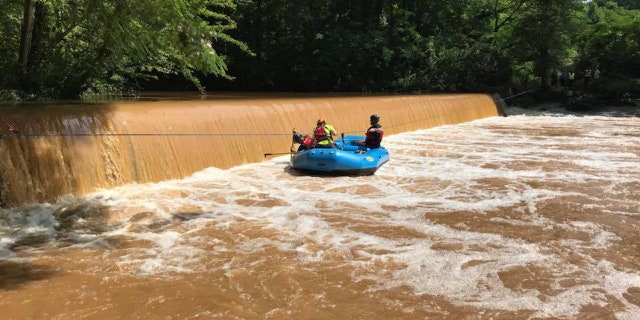 "Earlier the water was moving at roughly 3000 cubic feet per second," the sheriff's office posted to Facebook. "Normally it runs at 200 on average."
While officials said they would not release the names of the teenagers until they are found, a family member identified one of the boys in an interview with FOX5 Atlanta.
Roger Smart said his grandson Robert "Bryant" Wade was walking along the dam with water an inch from the top then fell in, possibly because of rising water. The second teenager tried going after him, but Smart said the current was just too strong.
"Bryant was a good strong going guy and this is a testimony of how strong the river is. People, this is real, this is really real…and these kids need to pay attention to this," he told FOX5.
NATIONAL GUARDSMAN'S BODY FOUND NEAR ELLICOTT CITY AFTER BEING SWEPT AWAY BY FLOODWATERS
On Saturday, the Sheriff's Office shared a video of the situation at the dam with the water slightly lower compared to Friday.
"We hope for a miracle, but we understand the reality," the sheriff's office said.
Rescue crews have used infrared cameras and dogs to search for the teens. Water levels dropped enough by Saturday for authorities to continue a side-by-side walkdown of the Barber Creek in pictures posted to Facebook.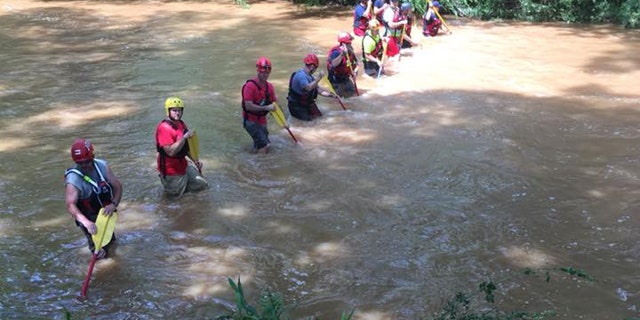 In another post, the sheriff's office showed divers searching the water for the teens, which could not take place earlier due to high water levels.
The Oconee County Fire Department and several units from Clarke County were assisting deputies with the search efforts.