Georgia detective allegedly pulls gun in McDonald's drive-thru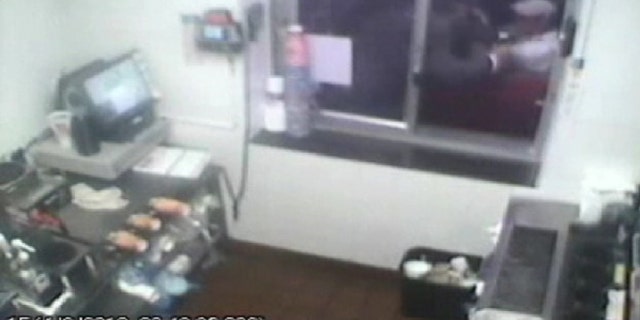 A metro Atlanta police sergeant accused of pulling a gun on a customer in a McDonalds drive-thru as been arrested.
Forsyth County sheriff's spokesman Courtney Spriggs Wednesday said DeKalb County police Sgt. Scott Biumi has been charged with aggravated assault after authorities say he pointed a gun at a man during an argument on April 9.
Sheriff's officials say surveillance footage from inside the restaurant shows the 48-year-old sergeant step between the man's car and the drive-thru window. Authorities say he pointed the weapon into the car as he leaned into the driver's side window.
Authorities say the April 9 incident was caught on surveillance video, MyFoxAtlanta.com reported.
The station identified the alleged victim as 18-year-old Ryan Mash.
"I'm just like, 'I don't want to die. I'm sorry, sir. I didn't mean for any of this to happen,'" Mash recalled.
Mash told MyFoxAtlanta.com that he was waiting for his food, and he said he told Biumi that's the only reason he was still sitting in the line.
"And he's like, 'Whatever,' and walked back to his car," Mash said. "Then I was like, 'Sorry for the inconvenience, sir,' and he got back out and started yelling at me."
Mash said Biumi told him, "You don't want to mess with me," before putting his hand on Mash's shoulder and pulling out his gun. Two of Mash's friends were in the pick-up with him, and they say they couldn't believe what was happening.
"I was terrified," said Luke Avera. "I didn't know what to think. My heart was racing."
Mash's friend Drake Thomas said he saw Biumi's badge under his shirt. Thomas got Biumi's license plate number, and according to the Forsyth County Sheriff's Department.
Spriggs, the sheriff's spokesman, says Biumi was booked into the Forsyth County jail on $22,000 bond.
It is unclear if he has an attorney. Spriggs says a court date is scheduled for May 23.
Click for more from MyFoxAtlanta.com
The Associated Press contributed to this report