Georgia cops use coin flip to decide whether to arrest woman, video shows
A flip of a coin by Georgia cops determined a woman's fate during a traffic stop in April, body camera footage showed.
The video showed Roswell police officers laughing as they used a coin-flip app to decide whether to detain Sarah Webb during a traffic stop, 11 Alive reported.
Officer Courtney Brown was heard asking Webb whether she knew how fast she was going. Webb apologized and said she was late for work, and Brown asked her to turn off the car and hand over her keys.
"The ground is wet and it's been raining you're going over 80 miles an hour on this type of a road. That's reckless driving," Brown said.
"I'm so sorry," Webb replied.
Brown returned to her police cruiser to talk with fellow officers about whether to arrest Webb or just give her ticket.
"What do you think?" Kristee Wilson, a responding officer, was heard saying.
WOMAN WANTED FOR GRAND THEFT GOES MISSING AFTER HUSBAND DIES WITH LETHAL LEVELS OF BENADRYL IN HIS SYSTEM
Brown said she "didn't have speed detection," but the other officer pointed out that the body camera recorded her cruiser's speed, which would have shown how fast she was going to catch up to Webb.
Brown was then heard saying, "Hold on," as she opens a coin-flip app on her phone. Wilson suggested that heads should mean arrest and tails should mean release. Brown agreee and flipped the coin in the app.
"A [arrest] head, R[release] tail," Wilson said.
"OK," Brown replied.
"This is tails, right?" Wilson asked.
"Yeah, so release?" Brown responded.
"23 [the police code for arrest]," Wilson replied.
"Michael Jordan?" Brown said while laughing. "All right, so I've got too fast for conditions, reckless…"
The officers decided to charge Webb with going too fast for conditions and reckless driving. Brown then arrested Webb, handcuffing her and putting her in the back of a patrol car. Webb was crying as she walked into the police cruiser. She called her employer to let her know of her arrest. Webb was not aware of the coin flip until 11 Alive obtained the video and informed her of the footage.
WIDOW OF UNION OFFICIAL LED 'HIGH-FLYING LIFESTYLE' ON CASH MEANT TO TRAIN AUTOWORKERS: PROSECUTOR
"Wow, these people put my freedom in the hands of a coin flip," Webb told 11 Alive. "And that's disgusting."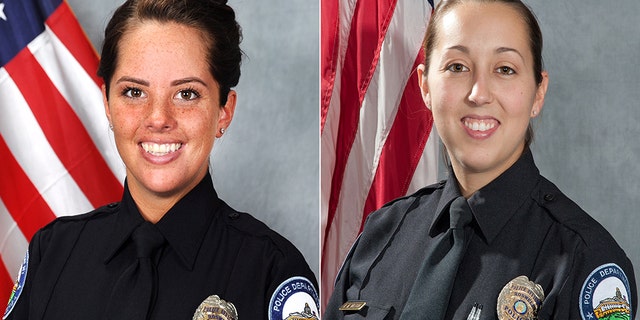 The charges were dropped against Webb on Monday, and the case was dismissed.
Roswell Police Chief Rusty Grant told FOX 5 Atlanta that as he soon as he found out about the incident he started an internal investigation and put Brown and Wilson on paid administrative leave. He said he could not discuss details as the investigation was ongoing.
"I have much higher expectations of our police officers and I am appalled that any law enforcement officer would trivialize the decision-making process of something as important as the arrest of a person," Grant said.
Webb said she would like to see the officers fired.
"I think they should be fired. I don't think at all that they should be getting a paid vacation," she said.
The Associated Press contributed to this report.