Gay US Mil Spouses Get Same Protections in Italy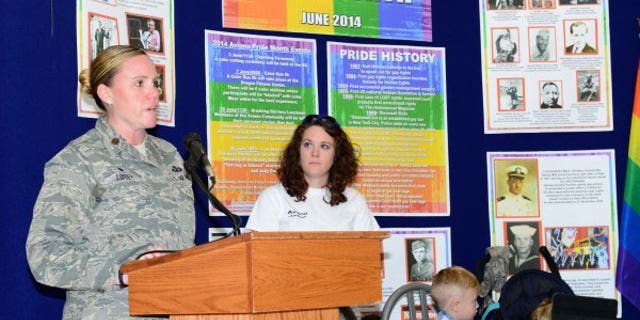 A new agreement between the Defense Department and the Italian government will allow same-sex military spouses to move to U.S. bases in Italy as command sponsored dependents.
Although the policy baring openly gay members from the military, known as "Don't Ask, Don't Tell," was repealed in 2011 and gay spouses became eligible for military benefits in 2013, they are often not permitted to officially join their service members at overseas bases depending on the status of forces agreement (SOFA) with the host country.
Those agreements mean spouses and family members receive special visa protections that allow them to stay in the country continuously. But because many countries do not recognize same-sex marriage, and because the subject can be a hot button political and religious issue, many countries do not allow American same-sex dependents as part of their agreements.
While spouses and families can often move to the host country with their service member without command sponsorship, they are left footing the bill for transportation, housing, passports and visa costs.
This change would allow the spouses to move to Italy and stay as long as their spouse is stationed in country.
"The denial of command sponsorship for many overseas duty stations is one of the many areas of serious concern that our families still face after the repeal of 'Don't Ask, Don't Tell' and the demise of the Defense of Marriage Act," said Stephen Peters, president of American Military Partners Association, which advocates for same-sex military members and their families.
"The long awaited addition of Italy to the available locations for same-sex spouses to be sponsored is certainly welcome news for many of our service members who have already received orders there and had to leave their families behind, or are soon to receive orders there."
A SOFA change was also reached with Norway, Finland and Cyprus, which host no more than 20 U.S. service members each.
The four new countries bring the total of overseas U.S. bases that allow command sponsored same-sex spouses to 20. Thirty-six countries have officially said "no" to changing their agreements, and 17 countries, including Germany, are still pending, according to Defense Department.
Japan, Germany, South Korea and Italy have the highest concentration of overseas based military personnel and family members.
While it's not clear why a SOFA change to allow same-sex dependents in Germany, where same-sex domestic partnerships are recognized, is still under negotiation, U.S. military officials in South Korea late last year moved ahead on the change there without the local government's approval. Military same-sex couples there can receive commissary and exchange privileges, but are still waiting for South Korean officials to stamp SOFA visas.
The bulk of African countries do not allow same-sex sponsorships under their SOFAs. Morocco and Uganda, where homosexuality is considered illegal, have denied changing their SOFA to include same sex dependents. Both of those locations host about 10 U.S. military members and their families.
-- Amy Bushatz can be reached at amy.bushatz@monster.com