Garbage truck tumbles almost 100 feet off Interstate 95 in Miami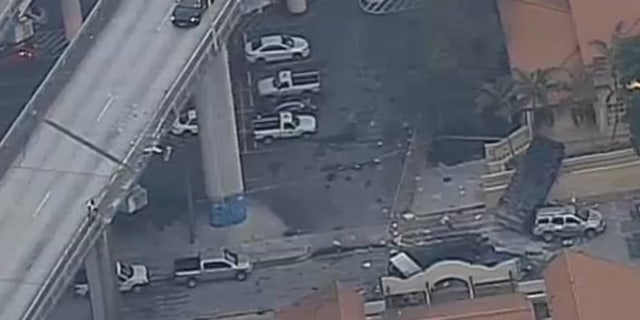 NEWYou can now listen to Fox News articles!
The driver of a garbage truck is in serious condition after the vehicle tipped over on Interstate 95 in Miami on Monday and fell almost 100 feet off the highway bridge onto a road below.
The truck was traveling southbound on the interstate when it went over the barricade and fell around 5p.m., WSVN-TV reported.
"A City of Miami solid waste truck was traveling southbound on I-95 going onto the Southwest Seventh Street exit and for some reason, it ended up coming off of the highway and fell, probably about 100 feet down to the parking lot of José Martí Park," Miami Fire Rescue Capt. Ignatius Carroll told WSVN. "Now luckily -- this park is usually filled with a lot of kids -- there was nobody injured on the ground."
Footage from news helicopters over the scene showed debris on the ground and on parked cars below.
"We have reports that the driver was outside of the vehicle when we arrived, so that's an indication that that's possibly some serious injuries here," Carroll told WSVN, "but he was transported to Ryder Trauma Center, and we understand that he is alive and is trying to speak about what happened, which are very positive signs."
Carroll added that the accident could have had a much worse outcome, due to a park and swimming pool nearby.
The Florida Highway Patrol has closed a portion of the bridge where a barricade was removed as a result of the accident, and will keep the ramp shut down until repairs are made.