Funeral held for 19-year-old college football player killed by Texas police officer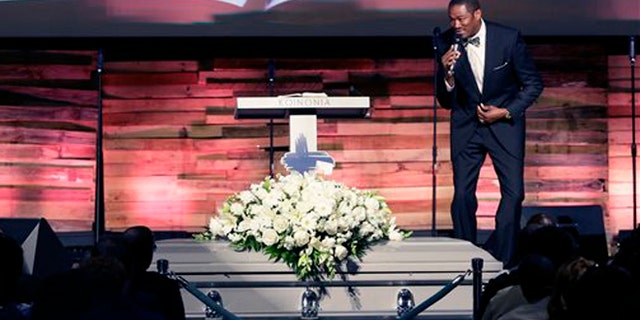 ARLINGTON, Texas – More than 1,000 people on Saturday attended the funeral of a college football player who was shot and killed by a North Texas police officer answering a burglary call at a car dealership.
The service for Christian Taylor at Koinonia Christian Church in Arlington was attended by his family members, friends and teammates.
The black 19-year-old attended Angelo State University in San Angelo in West Texas, where he was to start his sophomore year on the team. The crowd gave Taylor's teammates a standing ovation during the funeral.
Arlington Mayor Jeff Williams and Police Chief William Johnson also were at the service.
A neighbor of Taylor's family who was at the funeral, Billy Gipson, called Taylor "a modest kid who had a promising future." He said the young man was outgoing, loving and family-oriented.
"The person you see on TV isn't the individual I knew," Gipson said, referring to video footage that showed Taylor behaving erratically as he wandered around the dealership in Arlington.
Taylor was unarmed when shot Aug. 7 by an Arlington police officer responding to an after-hours burglary call. Security footage of the dealership lot shows Taylor busting out a car windshield, then driving his vehicle into the showroom. He was shot while inside the business.
The officer was fired Tuesday.
Family and friends said Taylor had started going to church and sharing his faith through text messages shortly before his death.
The Rev. Ronnie Goines, senior pastor at Koinonia Christian Church, said in the last two months of his life "the only thing Taylor talked about was helping young people meet Jesus."
Goines asked those attending the service to pray for the family but also for police officers and firefighters who "are willing to lay down their lives" for others.