FOX NEWS FIRST: Trump Supreme pick Kavanaugh prepping for confirmation war; FBI lovebirds facing hot seat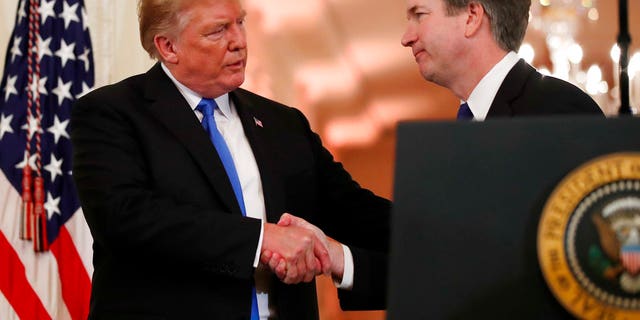 Welcome to FOX News First. Not signed up yet? Click here.
Developing now, Tuesday, July 10, 2018
President Trump nominates appeals court judge Brett Kavanaugh to the Supreme Court to replace retiring Justice Anthony Kennedy; Democrats vow a fierce fight to block Kavanaugh's confirmation
Trump's nomination of Judge Kavanaugh sparks tense protests Monday night outside the Supreme Court, which are expected to continue throughout the day on Tuesday
Two more soccer players have reportedly been pulled out of a flooded cave in Thailand safely as the rescue mission for the remaining trapped boys and their soccer coach is underway; authories safely retrieved eight other members of the team on Sunday and Monday
Former FBI lawyer Lisa Page is expect to testify behind closed doors Wednesday before the House Judiciary and Oversight Committees about anti-Trump texts she exchanged with colleague and lover Peter Strzok
A federal judge tosses the Trump administration's lawsuit against California's sanctuary state law
THE LEAD STORY - TRUMP'S SUPREME PICK: President Trump nominated appeals court judge Brett Kavanaugh to the Supreme Court Monday night to replace retiring Justice Anthony Kennedy, ending a days-long guessing game ... Kavanaugh had been considered a front-runner ever since Kennedy's June 27 retirement announcement. Trump conducted a swift and decisive vetting process, eager to push for confirmation of his second Supreme Court pick in less than two years.
THE BATTLE AHEAD: Though the president said Monday his nominee deserves "robust bipartisan support," his nomination of Kavanaugh set the stage for a bruising confirmation battle, as Senate Democrats and liberal groups vowed to resist what could be a dramatic and long-lasting rightward shift on the Supreme Court ... Within seconds of Trump's announcement in the White House Monday night, the far-left political action committee Democracy for America called Kavanaugh, 53, a "reactionary ideologue" whose confirmation would "directly lead to the deaths of countless women with the dismantling of abortion rights."
'KAVANAUGH HAS GOT TO GO!': Protests turned tense at the steps of the Supreme Court Monday night after President Trump chose Judge Brett Kavanaugh to replace Justice Anthony Kennedy ... Some protesters were screaming back and forth at each other amid a heavy law-enforcement presence. Pro-choice activists held purple signs reading "Protect Roe" and "Don't Criminalize Abortion." Others chanted: "Kavanaugh has got to go!" Others shouted into bullhorns, "abortion is violence" and "uphold the Constitution of the United States of America." Democratic leaders such as New York Democrat Sen. Kirsten Gillibrand and Sen. Bernie Sanders, I-Vt., attended to speak to the crowd -- and occasionally were drowned out by the activists.
FINAL RESCUE PUSH: Two more players have reportedly been extracted from the cave in Thailand Tuesday afternoon as dive teams conducted their third mission to free the remaining four players of the trapped soccer team and their coach, Sky News reported ... The condition of the people reportedly rescued is unclear, but there were reports of an ambulance with its lights on leaving from the scene. ... Authorities on Tuesday began their final push and were confident they could rescue the remaining four soccer players and their coach. Eight players were rescued Sunday and Monday in dangerous attempts by a world-class international team of divers. There is optimism that the dive team is getting more efficient in their attempts. They successfully extracted the second group of four a full two hours faster than the first, officials said.
Their families were being kept at a distance because of fears of infection and some of the emaciated-looking boys were eating a rice-based porridge because they were still too weak to take regular food, authorities said. All those extracted reportedly showed signs of infection. However, Jedsada Chokdumrongsuk, permanent secretary at the Public Health Ministry, said the first four boys rescued, aged 12 to 16, are now able to eat normal food. Two of them possibly have a lung infection but all eight are generally "healthy and smiling," he said.
FBI LOVEBIRDS FACING HOT SEAT: Former FBI lawyer Lisa Page is expected to appear at a closed-door deposition in front of the House Judiciary and Oversight Committees on Wednesday, just one day before former bureau colleague and lover Peter Strzok is set to testify publicly about the start of the Russia investigation ... A congressional source told Fox News on Monday that the judiciary committee issued a subpoena to Page, who is expected to face a grilling in the joint interview. For months, the attorney has been caught in the crosshairs of investigation into Russian meddling and potential collusion with Trump campaign associates in the 2016 presidential election, amid revelations that she and Strzok exchanged hundreds of politically charged, anti-Trump text messages.
SANCTUARY STATE VICTORY: A federal judge on Monday threw out the Trump administration's legal effort to overturn California's immigration laws, marking a major defeat to the administration's war on sanctuary states ... Judge John Mendez approved California's motion to dismiss the federal government's lawsuit related to Senate Bill 54. The state's sanctuary law also known as the California Values Act, and Assembly Bill 103 – allows the state attorney general to inspect detention centers, the Sacramento Bee reported. Attorney General Jeff Sessions sued the state of California earlier this year over the sanctuary state policies, arguing that state lawmakers overreached their authority.
AS SEEN ON FOX NEWS
TRUMP'S HIGH COURT STAMP OF APPROVAL: "There is no one in America more qualified for this position, and no one more deserving." – President Trump, during live coverage on "Hannity," announcing appeals court judge Brett Kavanaugh as his nominee to replace retiring Justice Anthony Kennedy on the Supreme Court. WATCH
NO RESPECT FOR TRUMP IN LONDON: "It's an insult. Whatever Sadiq Khan thinks about Donald Trump, he should not put that personal enmity above the fact that President Trump is the leader of the biggest and most important country in the world." – Nigel Farage, on "The Story with Martha MacCallum," ripping London Mayor Sadiq Khan for allowing a large blimp featuring the effigy of an infant Donald Trump to be flown over the city during the president's visit later this month. WATCH
TRENDING
St. Jude Family attacked online after thanking Eric Trump for support.
IHOP admits to faking IHOb name change for publicity.
Candace Owens challenges ESPN's Jemele Hill to racism debate, says Dems use her to 'paralyze blacks.'
One-eyed matador scalped by bull in gory video.
THE SWAMP
Halftime Report: Senate map shifts in key battlegrounds.
New York Gov. Cuomo signs reproductive rights executive order ahead of Trump's Supreme Court pick.
Boris Johnson quits as UK foreign secretary, leaving May's government on brink over Brexit.
ACROSS THE NATION
Ex-Navy sailor pardoned by Trump files suit against Obama, Comey for failure to prosecute Hillary Clinton.
Coroner: YouTube shooter shot herself through the heart.
Father, toddler son shot dead in Georgia; mother falls into ravine while fleeing attacker, officials say.

MINDING YOUR BUSINESS
Stock rally continues following jobs report.
Economists understating US GDP.
Timehop data breach exposes key information for millions of users
Winners and losers of Trump's decision to halt ObamaCare payments.
J.M. Smucker sells Pillsbury Doughboy and other baking brands.
Starbucks is officially going strawless.
Amazon Prime Day 2018: How to score the best deals.
FOX NEWS OPINION
Karol Markowicz: San Francisco's homeless crisis looks a lot like New York's future.
Henry I. Miller: Scott Pruitt's EPA policies reined in a rogue agency and were good for America.
J. Warner Wallace: Want to know one surefire way to live longer? It's not what you think.
HOLLYWOOD SQUARED
Stan Lee drops $1 billion lawsuit against POW!
Johnny Depp sued for allegedly attacking crew member on movie set.
Mel B calls out former 'X Factor' judge Louis Walsh for grabbing her butt on live television.
DID YOU HEAR ABOUT THIS?
Texas woman reels in 7-foot shark.
Mysterious giant sarcophagus discovered in Egypt.
Scientists may have figured out how to save coral reefs.
STAY TUNED
On FOX News:
FOX & Friends, 6 a.m. ET: Alan Dershowitz on the path forward for Supreme Court nominee Brett Kavanaugh; other special guests include: House majority Leader Kevin McCarthy; Eric Trump; a St. Jude family who was attacked after thanking Eric Trump for his donations. Plus, "Breakfast with Friends" in Statesboro, Ga.
Your World with Neil Cavuto, 4 p.m. ET: Leonard Leo, adviser to President Trump for judicial nominations, gives the inside story on Trump's decision to nominate Brett Kavanaugh for the Supreme Court. Sen. Rob Portman discusses all things trade as Trump heads to Europe for the NATO summit.
Special Report, 6 p.m. ET: Don't miss Bret Baier's must-see, wide-ranging interview with Vice President Mike Pence.
Hannity, 9 p.m. ET: Mark Levin and Newt Gingrich will size up the fallout from Trump's Supreme Court nomination of Brett Kavanaugh.
On FOX Business:
Mornings with Maria, 6 a.m. ET: Guests include: Nile Gardiner, director of the Margaret Thatcher Center for Freedom; Sen. James Lankford; Rep. Louie Gohmert; Andrew McCarthy, former federal prosecutor; Arthur Brooks, American Enterprise Institute president.
Varney & Co., 9 a.m. ET: Matt Schlapp, American Conservative Union chairman; Rep. Andy Biggs; Kayleigh McEnany RNC spokesperson.
Cavuto: Coast to Coast, Noon ET: Sen. Todd Young; Horace Cooper, National Center for Public Policy Research fellow.
Countdown to the Closing Bell, 3 p.m. ET: James Carafano, Heritage Institute Foreign and Defense Policies vice president; Nancy McKinstry, Wolters Kluwer CEO.
After the Bell, 4 p.m. ET: Sen. John Thune; Sen. Orrin Hatch.
On FOX News Radio:
The FOX News Rundown podcast: President Trump meets with NATO allies this week in Europe before sitting down with Russian President Vladimir Putin next Monday. FOX News Radio White House correspondent Jon Decker and FOX News Radio's Simon Owen discuss what the president wants from both sets of talks. The Trump administration announced Monday that it will miss the first court-imposed deadline to reunite some families separated under their "zero tolerance" immigration policy. FOX News producer Nicole Collins was in the courtroom and gives insight. Plus, commentary by FOX News Medical correspondent Dr. Marc Siegel.
Want the FOX News Rundown sent straight to your mobile device? Subscribe through Apple Podcasts, Google Play, and Stitcher.
The Brian Kilmeade Show, 9 a.m. ET: Leonard Leo, judicial adviser to President Trump, and Chris Stirewalt on Trump Supreme Court nominee Brett Kavanaugh; Andrew McCarthy on the latest in Special Counsel Robert Mueller's Russia investigation; Adm. James Stavridis on the latest developments in North Korea, China and Russia.
#OnThisDay
2008: President George W. Bush signs a bill overhauling rules about government eavesdropping and granting immunity to telecommunications companies that helped the U.S. spy on Americans in suspected terrorism cases.
1999: The United States women's soccer team wins the World Cup, beating China 5-4 on penalty kicks after 120 minutes of scoreless play at the Rose Bowl in Pasadena, Calif.
1991: Boris N. Yeltsin takes the oath of office as the first elected president of the Russian republic.
Fox News First is compiled by Fox News' Bryan Robinson. Thank you for joining us! Enjoy your day! We'll see you in your inbox first thing Wednesday morning.