FOX NEWS FIRST: Trump-FBI war in Clinton probe; After Steinle, prison for officials who shelter illegals?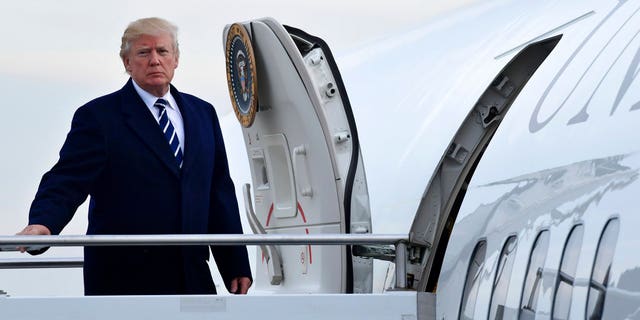 Welcome to Fox News First. Not signed up yet? Click here.
Developing now, Monday, Dec. 4, 2017:
President Trump in war of words over the FBI and its handling of the Clinton email probe
New questions about possible Trump obstruction in Russia investigation after questionable tweet
Fox News Exclusive: In wake of the Kate Steinle verdict, GOP lawmaker to introduce bill that would threaten prison time for elected officials accused of sheltering illegal immigrant criminals
CVS Health to acquire AETNA for $69 billion in year's largest acquisition
"Supermoon" dazzles stargazers across the world in its only appearance this year
THE LEAD STORY: President Trump is in a war of words with James Comey and Eric Holder over the FBI and its integrity after new details suggested the handling and closure of the Clinton email probe without criminal charges was reportedly driven by partisan politics ... Trump suggested Sunday that news reports about an anti-Trump FBI agent on the agency's Hillary Clinton email investigation explains why the Clinton case was closed without criminal charges. "Report: 'ANTI-TRUMP FBI AGENT LED CLINTON EMAIL PROBE' Now it all starts to make sense!" Trump said in one tweet. The office of Special Counsel Robert Mueller confirmed with Fox News exclusively that agent Peter Strzok had been removed from Mueller's investigation into Russia collusion after the Justice Department's inspector general started examining Strzok's electronic messages with a colleague, which reportedly included ones that were anti-Trump and pro-Hillary Clinton. Strzok had worked on the Clinton email probe last year.
Former Attorney General Holder and former FBI Director Comey both responded to Trump, who had added the FBI's reputation was in "tatters" because of its handling of the Clinton email investigation. "Nope. Not letting this go. The FBI's reputation is not in 'tatters,'" tweeted Holder, who served as attorney general under President Obama. "It's composed of the same dedicated men and women who have always worked there and who do a great, apolitical job." Comey tweeted what seemed to be a response of his own, quoting a statement he gave to the Senate Intelligence Committee last June: "I want the American people to know this truth: The FBI is honest. The FBI is strong. And the FBI is, and always will be, independent."
DEMS EYE POSSIBLE TRUMP OBSTRUCTION AFTER TWEET MISFIRE: Sen. Dianne Feinstein, the top Democrat on the Senate Judiciary Committee, said the panel has started to see "the putting together of a case of obstruction of justice" against President Trump ... Feinstein told NBC's "Meet the Press" that her analysis is based on Special Counsel Robert Mueller's Russia collusion probe that has recently resulted in indictments against former Trump campaign officials Paul Manafort and Rick Gates and guilty pleas by former National Security Adviser Michael Flynn and former campaign adviser George Papadopoulos. She also pointed to "the continual tweets" from the White House on the matter. Among those tweets was controversial message from Trump's official Twitter account on Saturday that said, "I had to fire General Flynn because he lied to the Vice President and the FBI. He has pled guilty to those lies."
The tweet Saturday suggested to some observers that Trump had obstructed justice because he would have known Flynn lied to federal agents when he purportedly asked then-FBI Director James Comey in February to ease up on investigating Flynn. John Dowd, President Trump's personal attorney, has taken responsibility this Trump tweet on Flynn, saying that he had sloppily drafted the passage and given it to White House Social Media Director Dan Scavino.
FOX NEWS EXCLUSIVE: In wake of the not guilty verdict in the Kate Steinle murder trial, a Republican congressman plans to introduce a bill today that would threaten huge fines and prison time for elected officials accused of sheltering illegal immigrant criminals from deportation ... Indiana Rep. Todd Rokita's bill is one of the most aggressive pieces of legislation to date aimed at sanctuary city policies, going beyond the Justice Department's threat to cut off grants to those jurisdictions. His "Stopping Lawless Actions of Politicians (SLAP) Act" would hold state and local lawmakers criminally responsible for refusing to comply with federal immigration enforcement efforts. The Republican's bill would subject violators to a $1 million fine and up to five years in prison if convicted.
HEALTH INDUSTRY SHAKE-UP: Drugstore chain operator CVS Health Corp. has agreed to acquire health insurer Aetna Inc. for $69 billion, seeking to tackle soaring health care spending through lower-cost medical services in pharmacies ... This year's largest corporate acquisition will combine one of the nation's largest pharmacy benefits managers and pharmacy operators with one of its oldest health insurers, whose national business ranges from employer healthcare to government plans.
LOOK, UP IN THE SKY ... IT'S THE "SUPERMOON": A "supermoon" was visible across much of the planet on Sunday evening for the one and only time in 2017, wowing observers ... The supermoon, given its name by Astrologer Richard Nolle, is a new or full moon that appears bigger to the human eye because it's the closest distance it could get to Earth during a given orbit. Supermoons typically appear 14 percent larger and 30 percent brighter than the average moon seen in the sky each night. CLICK HERE to look at a Fox News Digital slideshow of the supermoon from around the world
AS SEEN ON FOX NEWS WEEKEND
A CALL FOR AN 'INVESTIGATION OF THE INVESTIGATION': "This whole investigation stinks worse than cabbage cooking in a small, unventilated kitchen - with sardines on the side." – Former Arkansas Governor Mike Huckabee, on "Fox & Friends Weekend," sounding off on the removal of FBI counterintelligence division agent Peter Strzok from Robert Mueller's special investigation into President Trump and possible Russian collusion because of anti-Trump texts. WATCH
TRUMP AND THE LOOMING DANGER FROM NORTH KOREA: "There's a real grave danger to China, to Russia, to all nations, by -- you know, from a North Korea that's armed with nuclear weapons. And of course, you have that direct threat, but you also have the threat of -- the potential of Japan, South Korea, others, arming themselves, possibly even with nuclear weapons. That is not in China's interest; it's not in Russia's interest. And so, what the president's saying is, we all need to take care of it. If necessary, the president and the United States will have to take care of it, because he has said he's not going to allow this murderous, rogue regime to threaten the United States with the most destructive weapons on the planet." – National Security Adviser H.R. McMaster, in an exclusive interview on "Fox News Sunday," on how President Trump will handle the increasing nuclear threat from North Korea. WATCH
ACROSS THE NATION
McConnell eases stance on Moore, says voters should 'make the call.'
After victorious Senate vote, GOP leaders confident about tax reform, avoiding shutdown.
Grassley criticized for comments on taxpayers who waste money on 'booze,' 'women.'
MINDING YOUR BUSINESS
"Sunday Morning Futures" interview - Senate tax bill could reach Trump's desk in 10 days: Sen. Perdue.
U.S. equity index futures open higher after Senate passes tax bill.
Average U.S. gas price drops 7 cents to $2.54 for regular.
NEW IN FOX NEWS OPINION
Why Masterpiece Cakeshop case could bring a major Supreme Court ruling on free expression.
Michael Goodwin: The left (and much of Washington) are preparing to dance on the grave of Trump's presidency.
Todd Starnes: Pro-life teenager punched outside Planned Parenthood clinic.
HOLLYWOOD SQUARED
Billy Bush slams Trump for questioning authenticity of Access Hollywood tape.
MSNBC host Joy Reid targets Crist with anti-gay comments in old blog posts.
James Levine suspended by Met Opera after sexual abuse accusations.
DID YOU HEAR ABOUT THIS?
Coco screenings remove aggravating Frozen short from the film.
This Star Wars coat costs $1,300.
Sphinx from set of 1923 film The Ten Commandments unearthed in California.
STAY TUNED
On Fox News:
Fox & Friends, 6 a.m. ET: We'll look at how the tax reform bill could impact the health care system; House Majority Leader Kevin McCarthy weighs in on the GOP chances of passing tax reform by Christmas; legal scholar Alan Dershowitz on whether President Trump could face obstruction charges in the Russia investigation; Counselor to President Trump Kellyanne Conway takes on the latest developments in the Russian collusion and Clinton email scandals; and we celebrate veteran-owned businesses, starting with Bottle Breacher.
The Story with Martha MacCallum, 7 p.m. ET: The six officers acquitted in the Freddie Gray case are back at work. The father of one of the officers speaks exclusively to Martha.
Hannity, 9 p.m. ET: Newt Gingrich sounds off on an apparently pro-Hillary FBI investigator's role in the Clinton email investigation and dismissal from the Special Counsel Robert Mueller's Russia collusion probe.
On Fox Business:
Mornings with Maria, 6 a.m. ET: Kiron Skinner, Fox News foreign policy analyst, on the next step for the Trump administration in handling North Korea; Rep. Peter King, Congressman on the impact of the tax reform bill; and former Whitewater Independent Counsel Robert Ray on what Michael Flynn's plea deal means for the Trump administration and the Russian collusion case.
Varney & Co., 9 a.m. ET: Rep. Steve King on the future of "Kate's Law" following the not guilty verdict in the Kate Steinle murder trial.
After the Bell, 4 p.m. ET: Grover Norquist, Americans for Tax Reform president, on what lawmakers need to do to pass the landmark legislation.
On Fox News Radio:
The Fox News Rundown podcast: Fox News Radio has launched the Fox News Rundown! This long-form podcast features insights from top newsmakers, along with reporters and contributors from across all Fox News Channel platforms. All episodes of this podcast can be found at: www.foxnewsrundown.com. Want it sent straight to your mobile device? Subscribe through Apple Podcasts, Google Play, and Stitcher.
The Brian Kilmeade Show, 9 am to Noon ET: Columnist Andrew McCarthy on Michael Flynn's plea deal; Rep. Rod Blum talks tax reform; Amb. John Bolton on what's next in handling North Korea.
#OnThisDay
1991: Associated Press correspondent Terry Anderson, the longest held of the Western hostages in Lebanon, is released after nearly seven years in captivity.
1956: Elvis Presley, Johnny Cash, Jerry Lee Lewis and Carl Perkins gather for the first and only time for a jam session at Sun Records in Memphis.
1945: The Senate approves U.S. participation in the United Nations by a vote of 65-7.
Thank you for joining us on Fox News First! Enjoy your day and we'll see you in your inbox first thing Tuesday morning.