FOX NEWS FIRST: Trump credits fiery rhetoric for Kim summit; War of words over Rosenstein 'subpoena' threat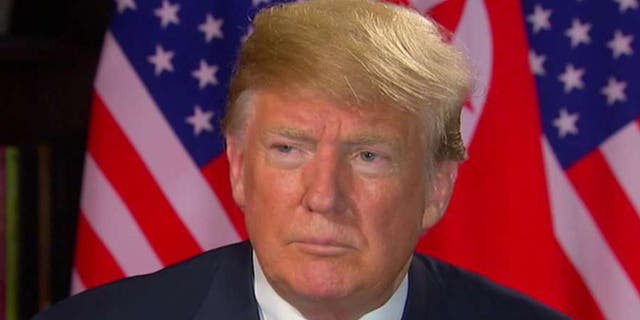 Welcome to FOX News First. Not signed up yet? Click here.
Developing now, Wednesday, June 13, 2018
President Trump praises Kim Jong Un as 'strong,' 'funny' and a 'great negotiator' – but says his previously fiery rhetoric about the 'Rocket Man' made the Singapore summit possible
TUNE IN: President Trump will take questions from Fox News' Bret Baier on 'Special Report' at 6 p.m. ET Wednesday
Two GOP primary wins for Trump: 'Never Trumper' Rep. Mark Sanford loses in South Carolina, pro-Trump gubernatorial candidate Adam Laxal wins in Nevada
House Republicans say they will push for a vote to force the Justice Department to release all remaining documents on the Trump-Russia probe
AT&T's $85 billion deal for Time Warner can proceed, a federal judge ruled Tuesday, in a historic setback for the Justice Department that could lead to more blockbuster mergers
Lawyers for fired FBI official Andrew McCabe sue the Justice Department and FBI over documents related to his firing
THE LEAD STORY - TRUMP RAVES ABOUT 'ROCKET MAN': President Trump, in an interview Tuesday with Fox News' Sean Hannity, complimented North Korean leader Kim Jong Un after their Singapore summit as a "strong guy" and a "great negotiator," and argued his once-fiery rhetoric toward Kim pulled him to the negotiating table ... "He's got a very good personality, he's funny, and he's very, very smart," Trump said of Kim in the interview that aired Tuesday night. "He's a great negotiator, and he's a very strategic kind of a guy." The president said he and Kim "got along very well" from "the beginning" of the summit. That's in stark contrast to just a few months ago, when the president dismissively referred to Kim as "Little Rocket Man," and warned North Korea that it "will be met with fire and the fury like the world has never seen" if it provoked the United States with its nuclear program. But Trump told Hannity he thought his tough style paved the way for Tuesday's summit. "I think without the rhetoric, we wouldn't have been here," Trump said. "I really believe that."
FORMER 'LUV GUV' LOSES: Incumbent U.S. Rep. Mark Sanford, R-S.C., a frequent Trump critic linked to a past sex scandal as governor, was ousted Tuesday by state Rep. Katie Arrington ... On a key primary night with elections also held in Maine, Virginia, Nevada and North Dakota, the results in South Carolina were an unmistakably positive referendum on President Trump's leadership. Arrington's shock win was a dramatic rebuke of Sanford's heated "Never Trump" rhetoric. It signaled that the president's base in the state remains solidly behind him ahead of November's midterm elections, despite withering criticism from both inside and outside the Republican Party. Arrington, a relative newcomer who secured Trump's backing, repeatedly bashed Sanford for deriding the president.
In other primary races Tuesday, voters in Virginia handed a big win Tuesday to pro-Trump Senate candidate Corey Stewart, the firebrand who has vowed to wage a "vicious" and "ruthless" fight against former Hillary Clinton running mate Sen. Tim Kaine. Meanwhile, in Nevada, Trump-backed Republican state Attorney General Adam Laxalt defeated state Treasurer Dan Schwartz and other lesser-known candidates to secure the GOP nomination and face Democrat Steve Sisolak in November's election to replace Nevada's term-limited Gov. Brian Sandoval.
'TURN OVER THE DOCUMENTS': Republican lawmakers said that they will push for a vote on a resolution that compels the Department of Justice to cease the delays and finally release all remaining documents related to the Trump campaign probe ... Reps. Mark Meadows, R-N.C., and Jim Jordon, R-Ohio, both members of the House Freedom Caucus, told Fox News' Laura Ingraham that they will push for a vote on the resolution, which will be filed Wednesday, that would encourage Deputy Attorney General Rod Rosenstein to comply with their requests at the House Intelligence Committee. "It's all about compelling DOJ to turn over documents so we could do proper oversight. If they have nothing to hide, turn over the documents," Meadows said on "The Ingraham Angle."
Jordan said the resolution is different from other the committee requests because it would come from the entire Congress. The effort would follow a bombshell report by FOX News' Catherine Herridge that Rosenstein threatened to "subpoena" emails, phone records and other documents from lawmakers and staff on a Republican-led House committee during a meeting earlier this year.
$85 BILLION ANTITRUST BUSTER: AT&T on Tuesday won a federal judge's approval for its $85 billion deal to acquire Time Warner, prevailing over the federal government ... U.S. District Judge Richard Leon rejected the government's argument that a combination of AT&T and Time Warner would give the telecom giant an unfair advantage over rival cable companies. AT&T expects to complete the deal by June 20. While the U.S. Department of Justice could choose to appeal the decision, Leon warned that government officials should "have the good judgment [and] wisdom" not to seek a stay to temporarily prevent the deal from moving forward. The judge added that a stay would be a burden to AT&T, which has paid billions in its legal defense of the deal.
MCCABE DOESN'T WANT 'SECRETS': Lawyers representing former FBI Deputy Director Andrew McCabe filed a suit against the Justice Department and FBI on Tuesday, alleging that they wouldn't give up files connected to his ouster ... McCabe's lawyers claimed the Justice Department has denied access to the sought-after information out of concern that the documents could later be used against them, the lawsuit says. The suit also names the office of the DOJ inspector general. "We don't create or adjudicate under secret law or procedure," David Snyder, a lawyer representing McCabe, told the Associated Press. A representative for the Justice Department did not immediately respond to Fox News' request for comment. McCabe was fired in March just a few days shy of his retirement by Attorney General Jeff Sessions after it was reported that McCabe leaked a story to the press and later lied about it to former FBI Director James Comey.
AS SEEN ON FOX NEWS
TRUMP REGRETS?: "So, I think the rhetoric, I hated to do it. Sometimes I felt foolish doing it. But we had no choice." – President Trump, in his interview on "Hannity," reflecting on his past exchange of verbal barbs with Kim Jong Un. WATCH
ANTI-TRUMP MEDIA: "The left will still not give [Trump] a shred of credit." – Laura Ingraham, blasting the mainstream media's response to the Trump-Kim summit, on "The Ingraham Angle." WATCH
THE SWAMP
Californians Pelosi, Lee invite Golden State Warriors to Capitol Hill after Trump brushes off NBA champions.
Mitch McConnell makes history as longest serving Senate Republican leader.
Claire McCaskill's private plane used on campaign's RV tour through Missouri.
TRENDING
Raccoon reaches roof of Minnesota office building as crowds watch.
Trump's 2020 campaign manager calls for CNN's 'absolute disgrace,' Jim Acosta, to lose press credentials.
Racy Meghan Markle photos may be used in Kate Middleton topless pics appeals case in France.
Chelsea Clinton fires back at critics who compare her to 'Howdy Doody.'
Tim Tebow slams critics using kneeling photo to support NFL anthem protesters.
Wealthy Connecticut town bans 'for sale' signs on homes on market.
ACROSS THE NATION
Opioid lawsuit in Massachusetts is first to name company executives, state AG says.
Ex-Detroit Mayor Kwame Kilpatrick wants Trump to spring him from prison
Seattle repeals 'head tax' after backlash from Amazon, Starbucks.
George H.W. Bush becomes first U.S. president to turn 94.
Veterans organization can keep American flag bench following NYC removal order.
MINDING YOUR BUSINESS
Interest rates set to rise as Fed meeting concludes.
Tesla to cut 9 percent of workforce.
McDonald's reveals restructuring plan.
Investors flocking to American stocks – here's why.
FOX NEWS OPINION
Former Rep. Bob Barr: Trump is headed for impeachment if Republicans don't do these things to hold the House.
Five states will help determine if GOP can keep control of Congress and block impeachment of Trump.
Tammy Bruce: De Niro's crude attack on Trump proves liberals are beside themselves that he keeps winning.
HOLLYWOOD SQUARED
John Schneider released from jail after five hours 'due to overcrowding.'
Trump slams 'low IQ' and 'punch-drunk' De Niro after star's F-bomb attack.
'Hannity' is most-watched show on all of television Monday, even beating 'The Bachelorette.'
DID YOU HEAR ABOUT THIS?
Incas mastered the grisly practice of drilling holes in people's skulls.
Strange 'bird fish' goes viral: What is this creature?
'Hangry' woman calls cops because her pizza took too long to make, report says.
STAY TUNED
On FOX News:
FOX & Friends, 6 a.m. ET: Kellyanne Conway, counselor to President Trump, on Trump's summit with Kim; Sen. Corey Gardner reacts to President Trump's face-to-face with Kim; Sgt. Anthony Mannino details saving the life of a toddler he found wandering alone near major highway; Comedian Michael Loftus explains why Democrats are turning to Hollywood for help; K9S for Warriors founder Shari Duval has insight behind the new film "A New Leash on Life"; Sheriff Chuck Jenkins on the damage MS-13 is causing in his Maryland community.
Special Report, 6 p.m. ET: Don't miss Bret Baier's sitdown interview with President Trump.
The Ingraham Angle, 10 p.m. ET: Rudy Giuliani, Trump's attorney, will be Laura's special guest to preview the much-anticipated Thursday release of the inspector general's report on the FBI's handling of the Hillary Clinton email probe.
On FOX Business:
Mornings with Maria, 6 a.m. ET: Guests include: Gordon Chang, author of "The Coming Collapse of China"; Kirk Lippold, former commander of the USS Cole; Rep. Martha McSally, U.S. Senate candidate; Rep. John Garamendi; Stephen Hadley, former national security adviser to President George W. Bush.
Varney & Co., 9 a.m. ET: Rep. Marsha Blackburn, U.S. Senate candidate; Jim Rogers, chairman of the Rogers Holding Company; former presidential candidate Hermain Cain; John James, U.S. Senate candidate.
Cavuto: Coast to Coast, Noon ET: Scott McNealy, Sun Microsystems co-founder; former U.S. Sen. Joe Lieberman.
The Intelligence Report, 2 p.m. ET: Danielle DiMartino Booth, author of "Fed Up: An Insider's Take on Why the Federal Reserve is Bad for America"; Gary Kaltbaum, Kaltbaum Capital Management president; Chris Versace, Tematica Research CIO and co-founder Adam Johnson, "Bullseye Brief" founder and co-author; John Lonski, Moody's chief economist.
On FOX News Radio:
The FOX News Rundown podcast: What happens next after President Trump's historic summit with North Korean leader Kim Jong Un? Gordon Chang, author of "The Coming Collapse of China," tells why he's bullish on the future of the U.S. relationship with the rogue nation. The $85 billion AT&T-Time Warner deal, approved Tuesday, could change the entire media landscape. FOX News' Hillary Vaughn explains why. Plus, commentary by Karol Markowicz, columnist for FOXNews.com and the New York Post.
Want the FOX News Rundown sent straight to your mobile device? Subscribe through Apple Podcasts, Google Play, and Stitcher.
The Brian Kilmeade Show, 9 a.m. ET: Joel Wit, White House deputy press secretary Hogan Gidley and Martha MacCallum will sound off on the ongoing fallout from the Trump-Kim summit; Karl Rove takes on Tuesday's primary results and hot political headlines of the day. Former Major League Baseball manager Davey Johnson gives the inside story on his new memoir.
The Tom Shillue Show, 3 p.m. ET: Did America walk away from the Trump-Kim Summit with a good deal? Michael Malice, author of "Dear Reader: The Unauthorized Autobiography of Kim Jong Il" and political strategist Jessica Tarlov join Tom Shillue.
#OnThisDay
2017: A comatose Otto Warmbier, released by North Korea after more than 17 months in captivity, arrives in Cincinnati aboard a medevac flight; the 22-year-old college student, who had suffered severe brain damage, would die six days later.
1978: The movie musical "Grease," starring John Travolta and Olivia Newton-John, has its world premiere in New York.
1966: The U.S. Supreme Court rules in Miranda v. Arizona that criminal suspects have to be informed of their constitutional right to consult with an attorney and to remain silent.
FOX News First is compiled by FOX News' Bryan Robinson. Thank you for joining us! Enjoy your day! We'll see you in your inbox first thing Thursday morning.