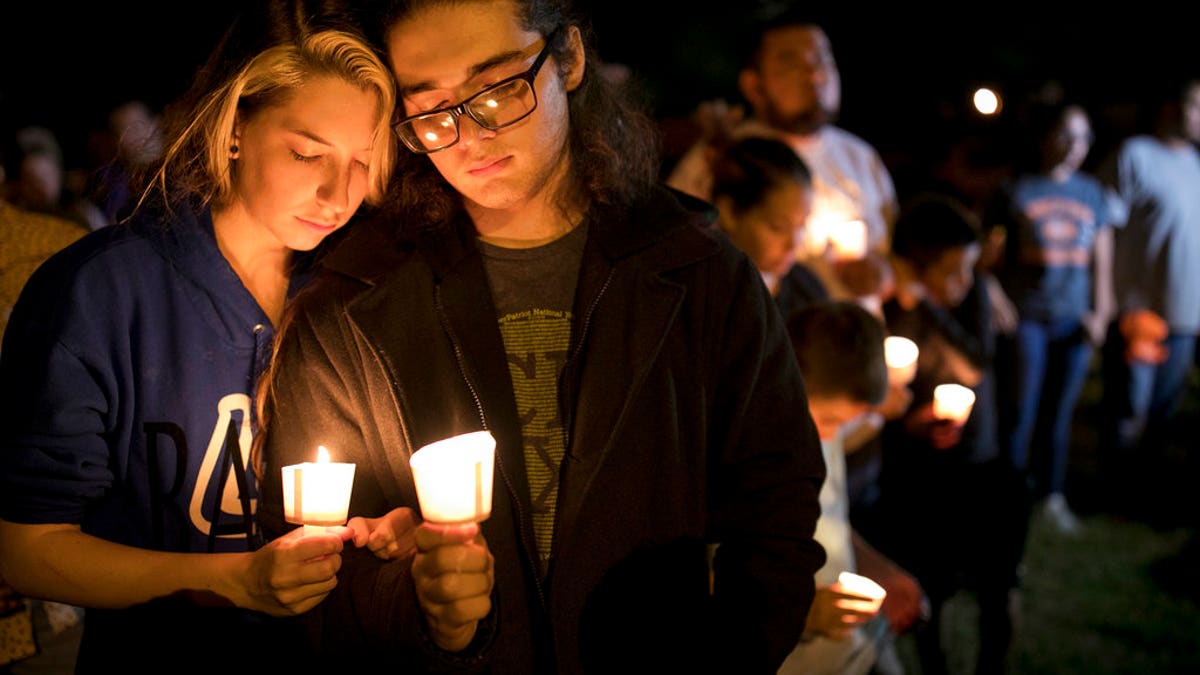 Welcome to Fox News First. Not signed up yet? Click here.
Developing now, Monday, Nov. 6, 2017:
Investigators search for a motive in deadly mass shooting at Texas church
President Trump says the Texas church massacre represents a mental health problem, not a gun problem
Trump slams North Korea in show of solidarity with Japan
Dems fear shocking Donna Brazile memoir will throw Virginia governor race to GOP
Fox Business Exclusive: Vice President Pence says there will be changes to the tax reform plan
THE LEAD STORY: Investigators are searching for a motive in the mass shooting at a Texas church that left 26 people dead and 20 wounded ... Sunday's massacre at the First Baptist Church of Sutherland Springs was deadliest church shooting in modern U.S. history. Investigators said the victims ranged in age from 5 to 72 years old, with injuries ranging from minor to "very severe." The gunman was identified as 26-year-old Devin Patrick Kelley. He lived in a suburb of San Antonio and didn't appear to be linked to organized terrorist groups, a U.S. official told The Associated Press. A possible motive was unclear. The official said investigators were looking at social media posts Kelley may have made in the days before Sunday's attack, including one that appeared to show a semiautomatic weapon. Witnesses say the gun was dressed in tactical gear when he opened fire on the church. Kelley was confronted by an armed nearby resident who chased after him. He was later found dead, roughly five miles away. It's unclear whether Kelley was killed by police or the armed resident, or from a self-inflicted gunshot wound.
TRUMP: CHURCH SHOOTING A MENTAL HEALTH PROBLEM: President Trump said the mass shooting at a Texas church on Sunday was indicative of a mental health problem, not gun laws in the United States ... "Mental health is your problem here," Trump said. "This isn't a guns situation. This is a mental health problem at the highest level. It's a very, very sad event." The president added that "based on preliminary reports" the shooter was "a very deranged individual." Some Democrats have already politicized Sunday's tragedy and called for more gun control. Former President Obama, former Vice President Joe Biden and Sens. Bob Casey Jr., Dick Durbin, and Kamala Harris were among the Democrats who urged action in response to the deadly shooting.
NO 'WEAK' RHETORIC FROM TRUMP: President Trump called North Korea a "threat to the civilized world" and vowed the United States "will not stand" for the rogue nation menacing America and its allies ... Trump made his comments during a news conference with Japanese Prime Minister Shinzo Abe on the second day of his trip to Asia. Trump criticized the Obama administration's attempts to manage the North Korea nuclear threat, saying "the era of strategic patience is over." "Some people say my rhetoric is very strong but look what has happened with very weak rhetoric in last 25 years," Trump said. Trump is looking for Japan to limit trade with neighboring North Korea, to squeeze the rogue nation economically, while Abe wants reassurances that the United States will stand by its treaty obligations to defend Japan if attacked. After Japan, Trump then travels to South Korea, China, Vietnam and the Philippines.
BRAZILE BOMBSHELL REVERBERATES: Former interim Democratic National Committee Chair Donna Brazile's scathing review of Hillary Clinton's failed 2016 presidential campaign has exposed a civil war within the Democratic party, with some members trying distance themselves and bury the Clinton era ahead of Tuesday's key Virginia governor's race and other upcoming elections ... Brazile roiled the political world on Thursday when she published excerpts in Politico of her upcoming book that detailed a 2015 money deal between the Clinton campaign and the DNC that made winning the party's presidential nomination nearly impossible for any other Democratic candidate. Brazile's scathing criticism of Clinton and the Democratic Party comes at a bad time, on the eve of the Virginia gubernatorial election between Republican Ed Gillespie and Democratic Lt. Gov. Ralph Northam. The RealClearPolitics polls average shows Northam now leading by 3 percentage points, essentially a dead heat, after leading by nearly 7 points just weeks ago.
FOX BUSINESS EXCLUSIVE: Vice President Mike Pence on Sunday said there will be changes to the tax plans of both houses of Congress before the final legislation is signed into law by President Trump, to ensure it fits the commander-in-chief's vision for tax reform... "There will be changes between the two and changes in the course of the legislative process," Pence told Maria Bartiromo on "Sunday Morning Futures." "But we think the House bill is a great start. We look forward to the Senate bringing forward its tax cut bill." Last Thursday, House Republicans released their tax plan, which calls for repealing the estate tax and cutting the corporate tax rate to 20% from 35%— a fundamental component of President Trump's campaign since day one and something the administration wants to see happen without delay.
AS SEEN ON FOX NEWS
A DIRE WARNING: "This is going to happen again ... All I can say is in Texas at least we have the opportunity to have conceal carry. And so ... there's always the opportunity that gunman will be taken out before he has the opportunity to kill very many people. You can't necessarily keep guns out of the hands of people who are going to violate the law. If someone is willing to kill someone, they're also going to be willing to violate a gun law." – Texas Attorney General Ken Paxton, reflecting on the mass shooting at a Texas church that killed at least 26. WATCH
A LESSON FROM TRAGEDY: "Some of us have been screaming about the diversity lottery forever. It takes a terrorist attack like this for most people to even hear of the diversity lottery, which is everything you would think it is. We're bringing in entire tribes. Every single part of our immigration laws is insane." – Ann Coulter, on "Watters' World," slamming the diversity visa program that allowed the suspect in the NYC terror attack into the country. WATCH
ACROSS THE NATION
Anthony Weiner to begin prison sentence for sexting conviction
Sen. Rand Paul 'in considerable pain' as he recovers from five broken ribs after assault.
Teen allegedly previously abducted by MS-13 gang member reported missing again.
MINDING YOUR BUSINESS
Commerce Department pushes back on report Ross has business links with Putin family.
Average US gas price jumps 7 cents to $2.58 for regular.
Top tips retirees wish they had known.
NEW IN FOX NEWS OPINION
Michael Goodwin: New York Times' rabid defense of Mueller resembles the debacle of its 2016 campaign coverage.
Steve and Jackie Green: The incredible, unexpected journey that led to the Museum of the Bible.
Judge gives deserter Bowe Bergdahl a slap on the wrist, our military members get a slap in the face.
HOLLYWOOD SQUARED
Actor Wil Wheaton angers people of faith with furious tweet at Paul Ryan after Texas massacre.
Backlash after Chelsea Handler quickly blames Republicans for Texas shooting.
Vin Scully vows never to watch another NFL game amid protest controversy.
DID YOU HEAR ABOUT THIS?
Transgender lesson gets New York 7th-grade teacher suspended.
Ugly Christmas rompers for men coming this Christmas season.
Glittery new coffee trend turns cappuccino into a disco ball.
STAY TUNED
On Fox News:
Texas Church Massacre: We'll have the latest developments from the scene throughout the day on all Fox News platforms!
Fox & Friends, 6 a.m. ET: Texas Attorney General Ken Paxton, Pastor Robert Jeffress, and former Secret Service Agent Dan Bongino will all give their perspective on the mass shooting at a Texas church. Counselor to President Trump Kellyanne Conway will break down the commander-in-chief's trip to Asia and reaction to the Texas tragedy.
Special Report, 6 p.m. ET: Bret is on the scene on President Trump's trip to Asia. Don't miss his interview with Japanese Prime Minister Shinzo Abe!
Tucker Carlson Tonight, 8 p.m. ET: Treasury Secretary Steve Mnuchin and Ivanka Trump will both talk tax reform and what it will mean for everyday Americans.
The Ingraham Angle, 10 p.m. ET: House Speaker Paul Ryan sits down with Laura to talk tax reform, Democrats' implosion and more!
Fox News @ Night, 11 p.m. ET: We'll have the latest developments from the Texas Church massacre with Sen. Ted Cruz.
On Fox Business:
Mornings with Maria, 6 a.m. ET: House Budget Committee Chair Diane Black will give the latest on the road to tax reform.
Varney & Co., 9 a.m. ET: Rep. Lee Zeldin of the House Foreign Affairs Committee sounds off on Trump's goals on his trip to Asia; former McDonald's CEO Ed Rensi takes on the GOP's chances for tax reform before the end of the year.
Lou Dobbs Tonight, 7 p.m. ET - Herman Cain breaks down what need to happen for Trump to achieve tax reform and more.
On Fox News Radio:
The Brian Kilmeade Show, 9 a.m. to Noon ET: New York Post columnist Michael Goodwin has a beef with the New York Times' coverage of Russia special counsel Robert Mueller.
CHECK IT OUT - Fox News Radio has launched the Fox News Rundown! This long-form podcast features insights from top newsmakers, along with reporters and contributors from across all Fox News Channel platforms. All episodes of this podcast can be found at: www.foxnewsrundown.com. Want it sent straight to your mobile device? Subscribe through Apple Podcasts, Google Play, and Stitcher.
#OnThisDay
1984: President Ronald Reagan wins re-election by a landslide over former Vice President Walter Mondale, the Democratic challenger.
1947: Meet the Press make its debut on NBC; the first guest is James A. Farley, former postmaster general and former Democratic National Committee Chair; the host is the show's co-creator, Martha Rountree.
1860: Abraham Lincoln is elected President of the United States as he defeats John Breckinridge, John Bell and Stephen Douglas.
Thank you for joining us on Fox News First! Enjoy your day and we'll see you in your inbox first thing Tuesday morning.